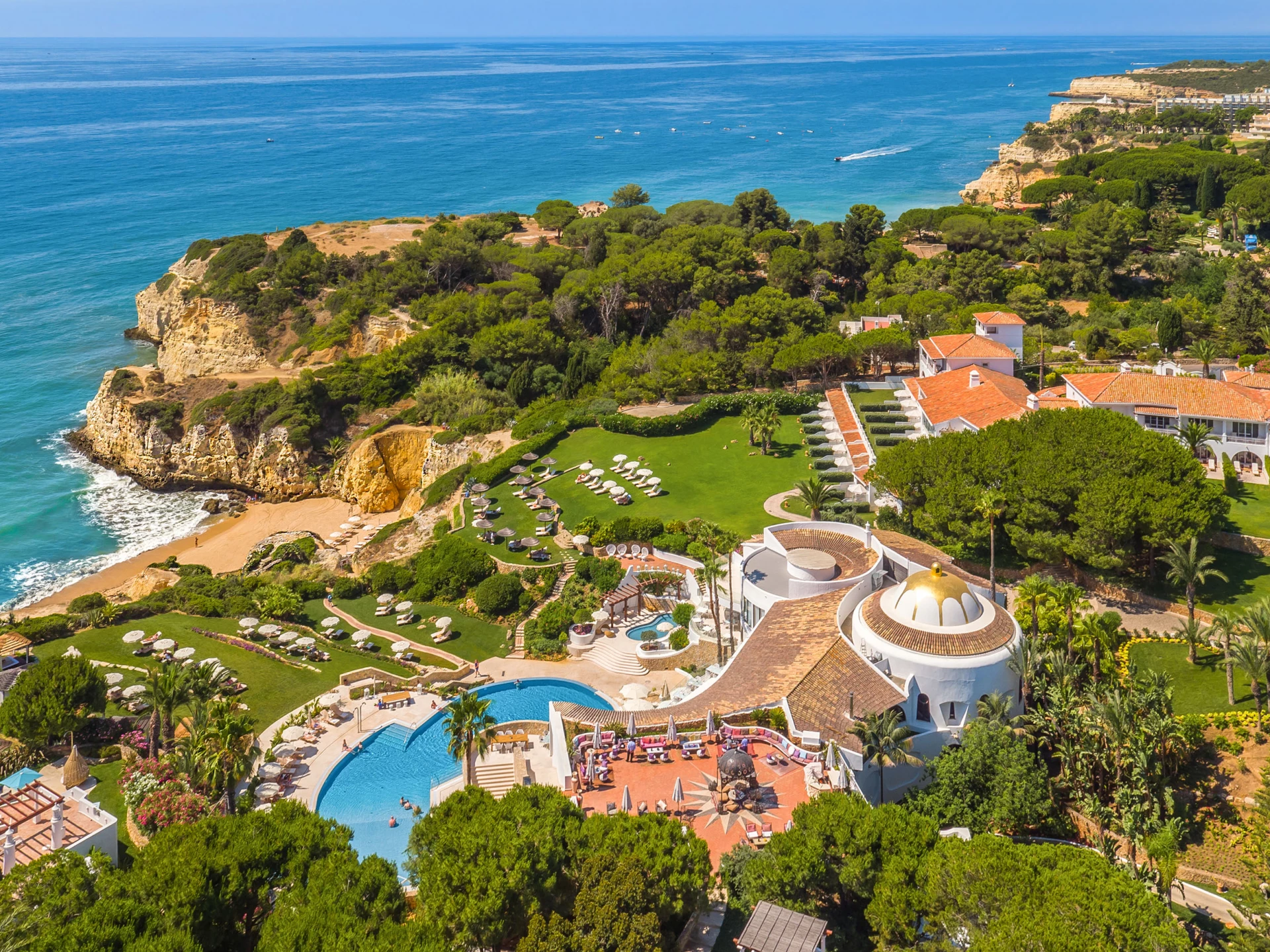 Vila Vita Parc
A five star luxury beach resort providing impeccable service and located in a prime seafront position.
The luxurious, Moorish designed Vila Vita Parc is set within a spectacular location on a rocky coastline boasting 54 acres of colourful sub-tropical gardens. One of Portugal's finest resorts, it is the ultimate escape for singles, couples and families alike to enjoy first class service, amenities and personalised experiences. You will be spoilt for choice with things to do; from the luxury spa, beautiful beaches and fabulous swimming pools to an abundance of activities including specialised clubs for the younger generations, plus plenty of options for golfers at the various championship courses which surround the resort. Vila Vita Parc prides itself on culinary diversity with 8 different restaurants (two outside the resort, nearby), six bars and a striking wine cellar holding 11,000 wines, all providing an unforgettable gourmet experience with a range of Portuguese, international dishes and snacks.
If you fancy getting active on your holiday, Vila Vita Parc has a range of sporting activities for you to choose from. Complimentary activities include 9-hole Pitch & Putt, 18-hole putting green, 18-hole minigolf, table tennis, Petanque/Boccia, volleyball and soccer. Activities at a cost include tennis court hire and tennis lessons, mountain bike rental, surfing, horseriding, deep sea fishing and dive trips/courses

From July to September, there's a range of watersports too – sailing boat hire, kayaking, canoeing, waterskiing, banana boat rides and windsurfing.

Children are well catered for at the resort with a creche, Kids Club and babysitting service available - please contact us for full details.

If pampering is more your thing, head to the Vila Vita Spa which boasts a vast array of facilities and offers exclusive treatments plus beauty and wellbeing therapies.

Treatments range from manicures, pedicures, facials and Thai massages to Physiotherapy, Osteopathy and Reflexology. The atmosphere is one of pure and blissful relaxation.

Facilities include a relaxation area, two saunas, Jacuzzi, steam bath, 12 massage/treatment rooms and a waterfall.
Luxury Holidays for Couples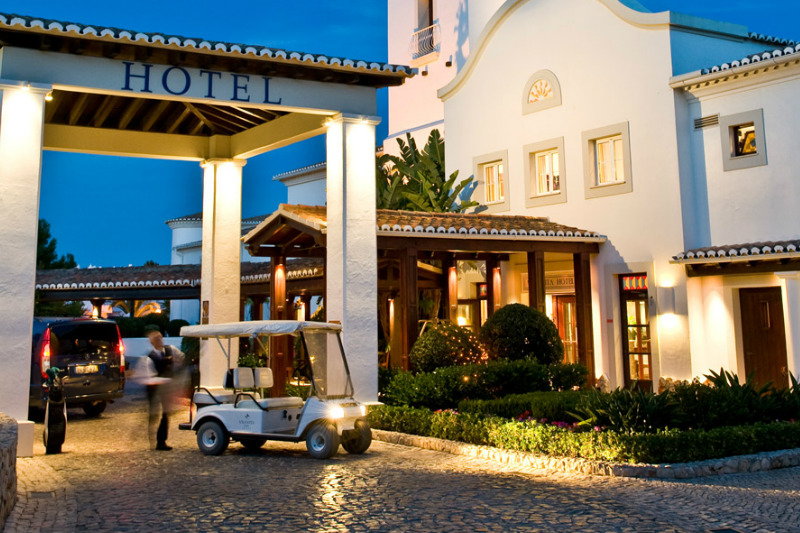 Overview
Set on 54 spectacular acres of lush subtropical gardens perched on an impressive coastline, the accommodation has been individually designed with elegance and sophistication, from rooms and suites to villas with terraces and panoramic views of the ocean. All 180 rooms are equipped with: air conditioning/heating, satellite TV, telephone, Radio-CD-Player, WiFi internet access, minibar, safe, hairdryer, heated towel rack, pillow menu, terrace furniture and sun loungers.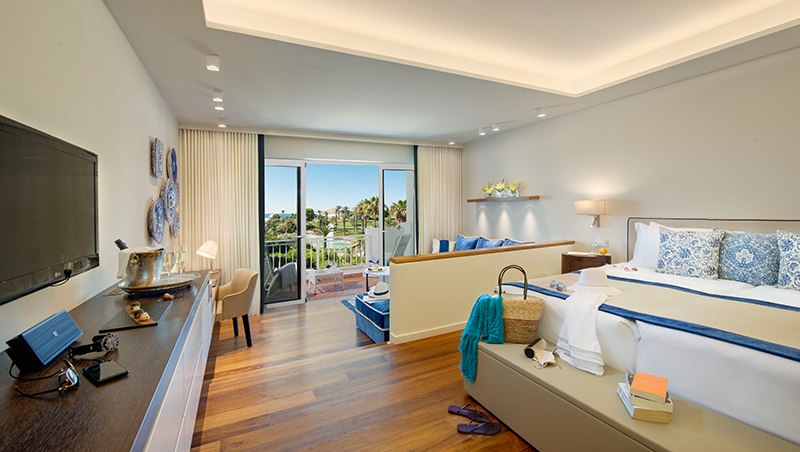 Main Building Guestrooms and Suites
Deluxe Rooms: Split-level living in a beautiful country house style, a spacious marble bathroom and either a terrace or balcony with garden view. Max Occupancy: 3 persons 40 sq mtrs. Grand Suites: Feature a spacious lounge, bedroom with luxurious bathroom, a separate shower room and guest toilet. The suites lead onto either a large balcony or terrace overlooking the luxurious sub-tropical gardens of the resort. Max Occupancy: 3 persons 65 sq mtrs. Penthouse Suites: The two Penthouse Suites are located on the top floor of the main building featuring a large balcony with breathtaking panoramic views of the gardens and ocean. These accommodation comprises lounge, separate dining area, fireplace, kitchen, guest bathroom, spacious bedroom with dressing room and bathroom balcony with daybeds. Max Occupancy: 3 persons 105 sq mtrs.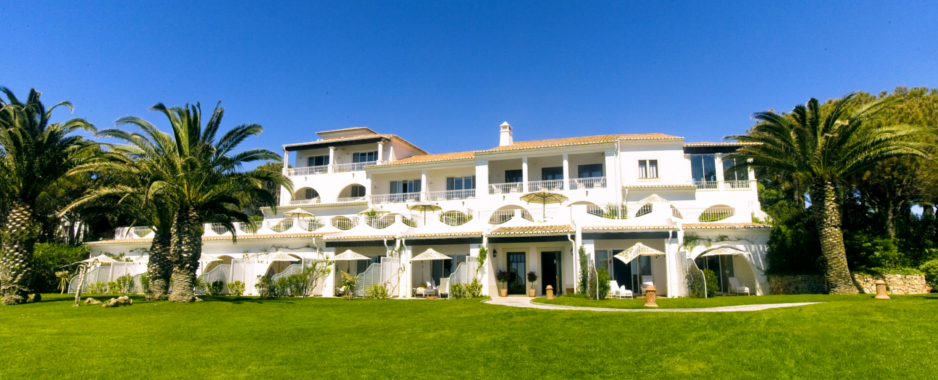 The Residence
The elegantly designed Residence is located right on the cliff top of the resort, offering breath-taking views over the Atlantic Ocean in a quiet and tranquil setting. This is adult only accommodation with a maximum occupancy of 2 adults per suite. Deluxe Room Garden View or Ocean View: Spacious split-level living, generous bathroom and a luxuriously furnished terrace or balcony. 40 sq mtrs. Townhouse/Honeymoon Suites: Fabulous living space for a couple with magnificent ocean or garden views from the balconies. The duplex suites feature a beautifully appointed master bedroom with en-suite bathroom, accessible via staircase, as well as a charming lounge with separate guest shower room. 65 sq mtrs. Residence Grand Suite: The elegant Residence Grand Suite offers a master bedroom and luxurious bathroom, spacious lounge with an adjacent guest bathroom. 65 sq mtrs.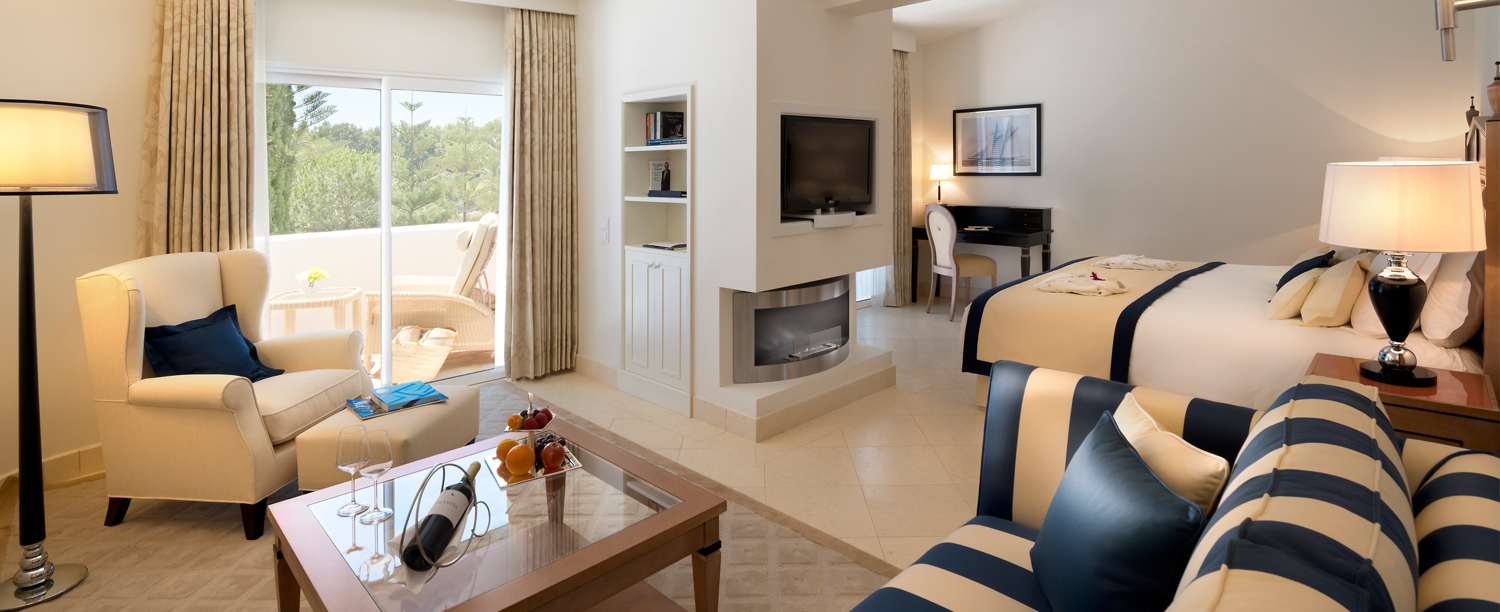 Oasis Parc
Set within the style of a Moorish village, the recently refurbished suites in Oasis Parc are all lavishly furnished with glamorously designed interiors. Oasis Suite Premium: One bedroom open plan suites located on the ground floor with walk-in wardrobe, luxurious bathroom with free standing bath and walk-in rain-shower. Max Occupancy: 3 persons 80 sq mtrs. Oasis Premium Rooftop Suite:- These suites are as the Premium Suites but are located on the first floor with a 40 sq mtr private rooftop terrace with a sitting area, daybeds and rainshower. Perfect suites for privacy and romance. Max Occupancy: 2 persons 80 sq mtrs. Oasis Family Suites: Comfortable accommodation for the whole family, with a spacious living and sleeping area in an open plan layout, a separate twin bedroom, and shower/bathroom. Max Occupancy: 4 persons 80 sq mtrs.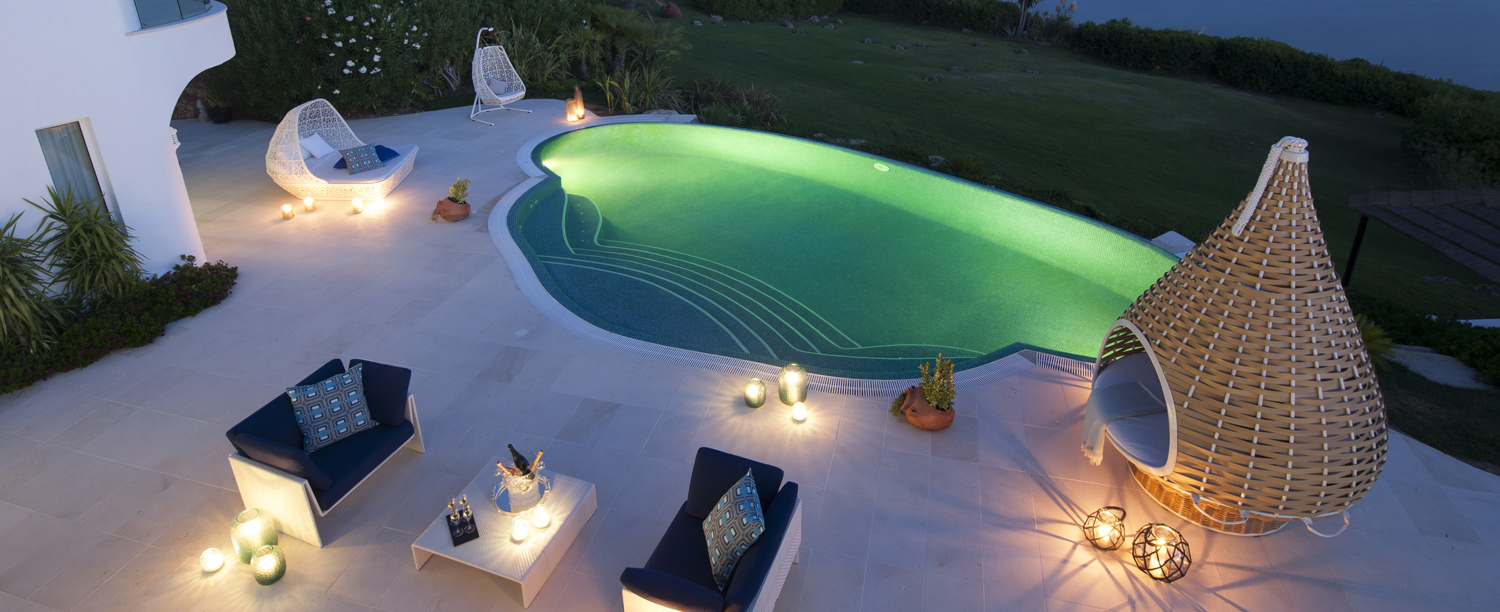 Private Villas
VILA VITA Parc also has four private villas giving you your own ultimate escape. Each villa has its own private pool and access to a secluded beach. Combine this with the availability of all of the resort facilities and service and you have the ultimate in luxury. Villa Praia: A luxurious two-storey, four bedroom villa with private infinity pool overlooking the ocean. Max Occupancy: 8 persons. 600 sq mtrs. Vila Trevo: An ocean front villa located on the cliff top with private pool enjoying unspoiled sea views. Max Occupancy: 10 persons. 672 sq mtrs. Vila Al-Mar: Located in a secluded area of the resort, a 3-bedroom luxury bungalow with private pool, large gardens and terraces, overlooking the golf course greens with breathtaking views of the Atlantic Ocean. Max Occupancy: 6 persons. 225 sq mtrs with 1900 sq mtrs of garden. Villas Atlantico I and II:- The Vilas Atlantico I and II are luxurious new villas located across from the resort, overlooking the pitch and putt golf course which feature large terrace areas and gardens and separate entrances to offer discerning guests more privacy and exclusivity. Each villa has a private parking area for up to 2 cars and has buggy service included. Max Occupancy: 4 persons. 300 sq mtrs with 1600 sq mtrs of garden.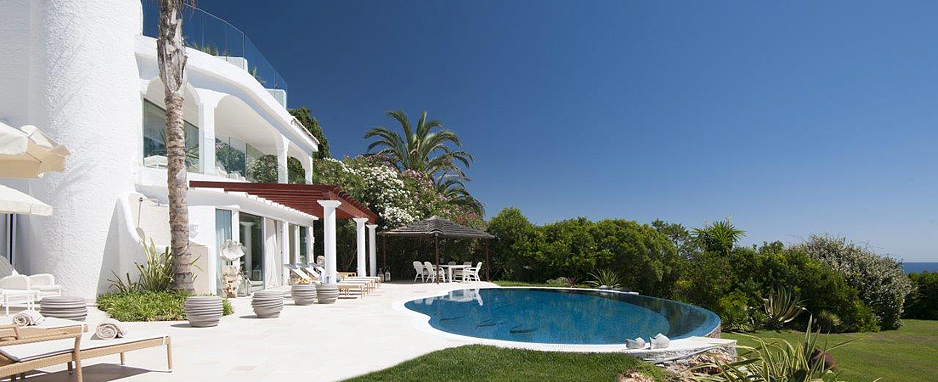 Ocean Restaurant: A fine dining, two Michelin-star rated restaurant situated in the Residence with breathtaking coastline and ocean views.

Aladin Grill: A fine dining grill room with an open-show kitchen preparing delicious meat and fish specialties.

Atlantico: Mediterranean fine dining with dazzling views of the Atlantic Ocean to enjoy from the Summer terrace.

The Whale: Italian cuisine with wood-stone oven pizza, pasta and an a la carte menu. A great family restaurant that has a large summer terrace and ocean views.

Bela Vita: Serves buffet breakfast and international and local dishes for dinner. Located on the ground floor with a panoramic garden terrace to be enjoyed.

Adega: A traditional Portuguese restaurant with a rustic ambiance. Serves tapas, regional specialities, a la carte menu and live music is regularly featured during dinner.

Vila Vita Biergarten: A complimentary shuttle bus takes you to the Biergarten restaurant to enjoy delicious German food and beers served by employees in traditional costumes.

Arte Nautica: Situated on the nearby sandy beach, this restaurant has magnificent views over the ocean and serves fresh meat and fish from the grill as well as snacks.

Please note that all restaurants and bars are subject to seasonal opening.
Your Holiday Starts Now
Why not chat to one of our experts!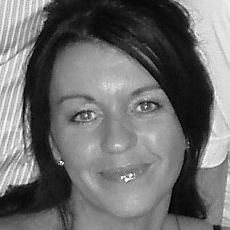 Start your holiday now with a conversation with one of our Algarve Personal Travel Experts!
We'll call you back
Leave us your contact details and we will be in touch.