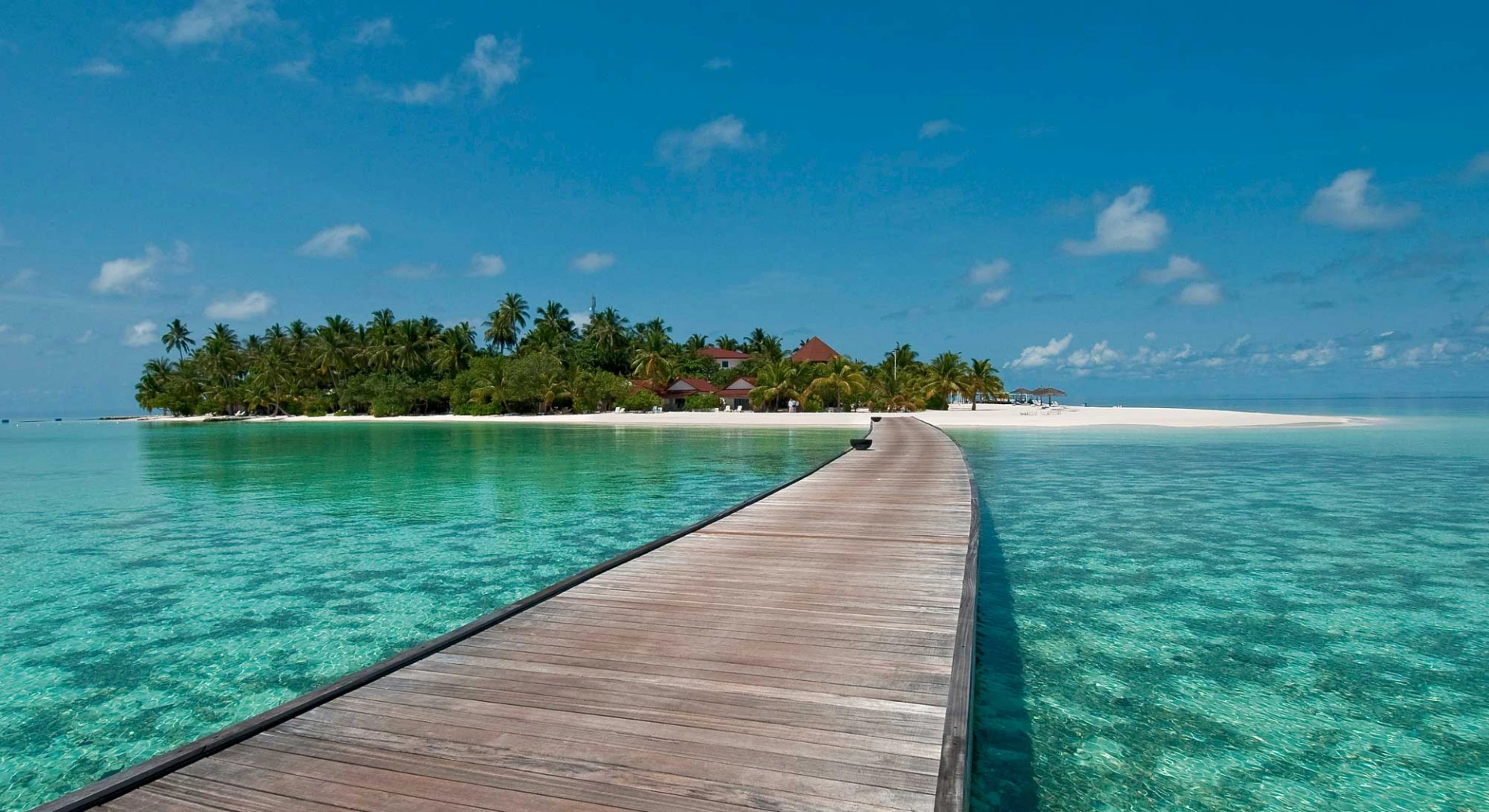 Diamonds Athuruga
Experience the superb diving and snorkelling opportunities in the Ari Atoll
Diamonds Athuruga is an island paradise; your arrival by seaplane delivers you to a beautiful resort where you're greeted with swaying palm trees by the white sand and azure blue ocean waters lapping gently at the shore.
Set in the middle of the Ari Atoll, the resort offers stylish and well equipped bungalows and villas, a spa, fantastic diving and snorkelling opportunities and an all inclusive concept with great food and drinks on offer. This is an ideal destination for a romantic or relaxing break.
Although you can choose your days relaxing and taking in the stunning views, there's plenty to do if you want to at Diamonds Athuruga. Of course, the crystal clear waters and reefs make this a superb location for diving and snorkelling with the IDive Diving Centre on hand to provide courses and tuition should you need it. There are regular guided tours of the reef and complimentary excursions to the local fishermans island.
Water activities include sailing (hobie cat and laser), windsurfing, canoeing, deep sea fishing and you can rent a boat to explore further afield if you wish. Other activities include beach volley, table tennis, pilates, yoga, water gymnastics and stretching. There's regular in-resort entertainment including live music and themed evenings.
Head to the tranquil Serena Spa for the ultimate experience in relaxation and pampering. Experienced staff offer face and body massages plus beauty treatments.
(Additional charges apply for selected activities, facilities and aspects of your stay. Please contact us for further details).
Luxury Holidays for Couples
Overview

The supremely comfortable bungalows and villas offer climate control, custom made furniture, king-size or double bed, docking station for iPod, minibar, tea/coffee making facilities, bathroom, beach towels, hairdryer, in-room safe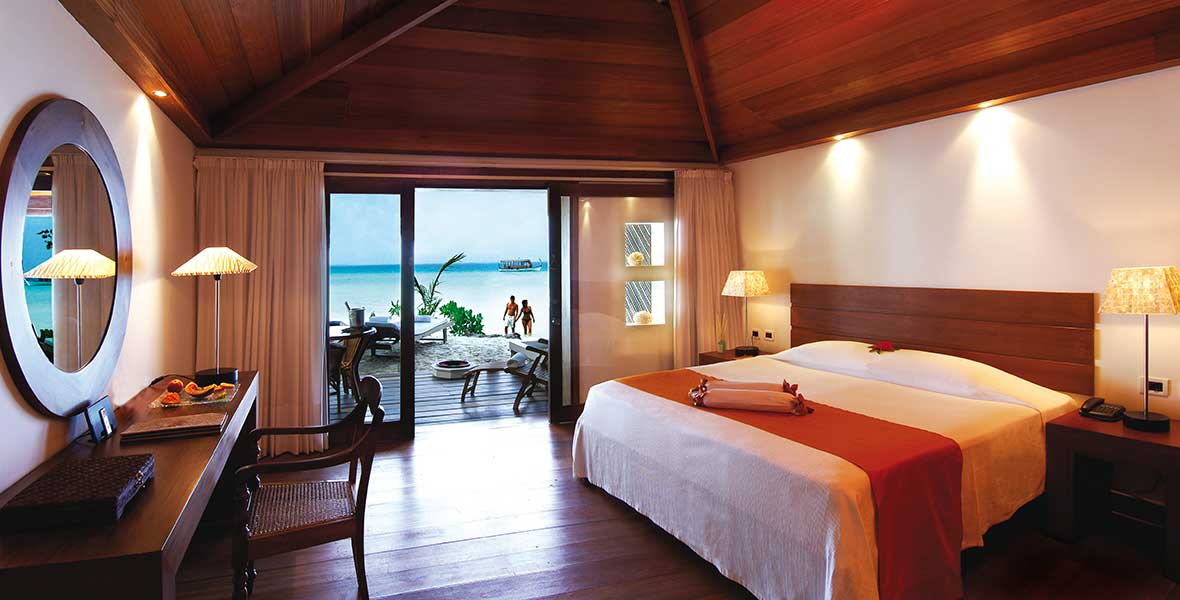 Beach Bungalows
Beach Bungalows have direct access to the beach and face the ocean. Each has a veranda with private terrace furnished with armchairs, table, sun loungers and outdoor shower.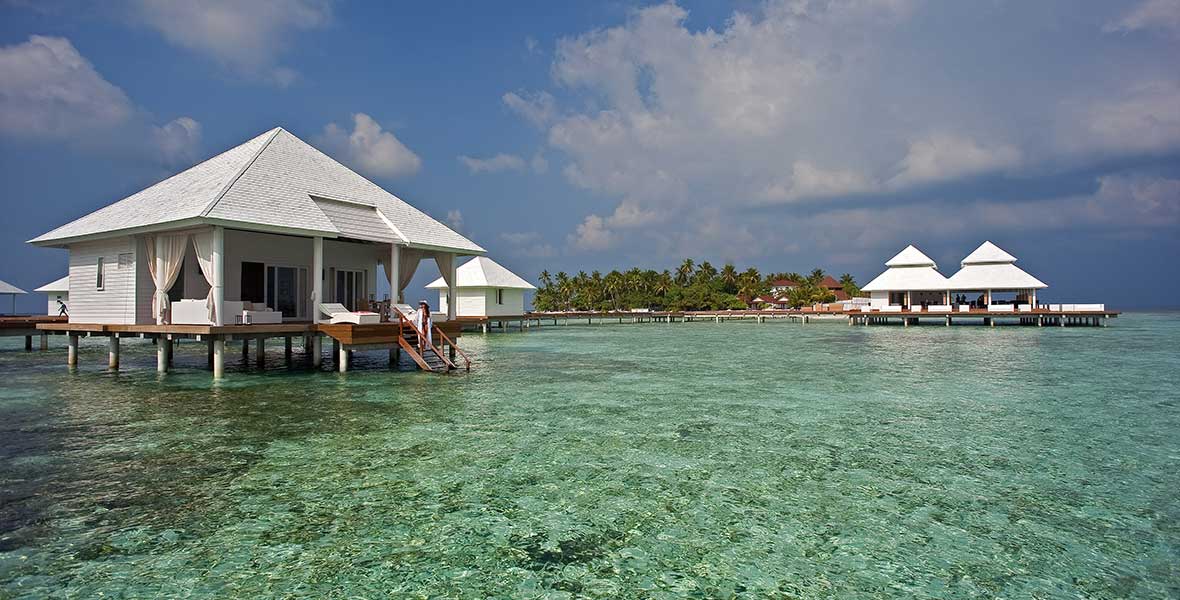 Water Villas
Beautiful villas with a large terrace and direct access to the ocean. Amenities include a large living area, sofa bed, corner bar, double four-poster bed, Apple iMac with a large variety of music and films, Wi-Fi, walk-in wardrobe, large open-air shower with dual jets and private access to the outdoor terrace, bathrobes, personalised courtesy toiletries set.

Also Available: Two Bedroom Water Villa with large terrace and outdoor Jacuzzi.
Main Restaurant:
Serves an American-style breakfast buffet plus lunch and dinner buffets featuring local and international fare.
Restaurant Over The Water: An exclusive à la carte restaurant set on a beautiful over-water deck. Serves local and international dishes for breakfast, lunch and dinner.
BARS: The Main Bar has a lovely, large outdoor terrace and the Water Bar is located on a spectacular terrace over the water.
Your Holiday Starts Now
Why not chat to one of our experts!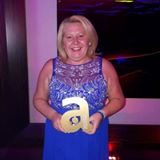 Start your holiday now with a conversation with one of our Maldives Personal Travel Experts!
We'll call you back
Leave us your contact details and we will be in touch.