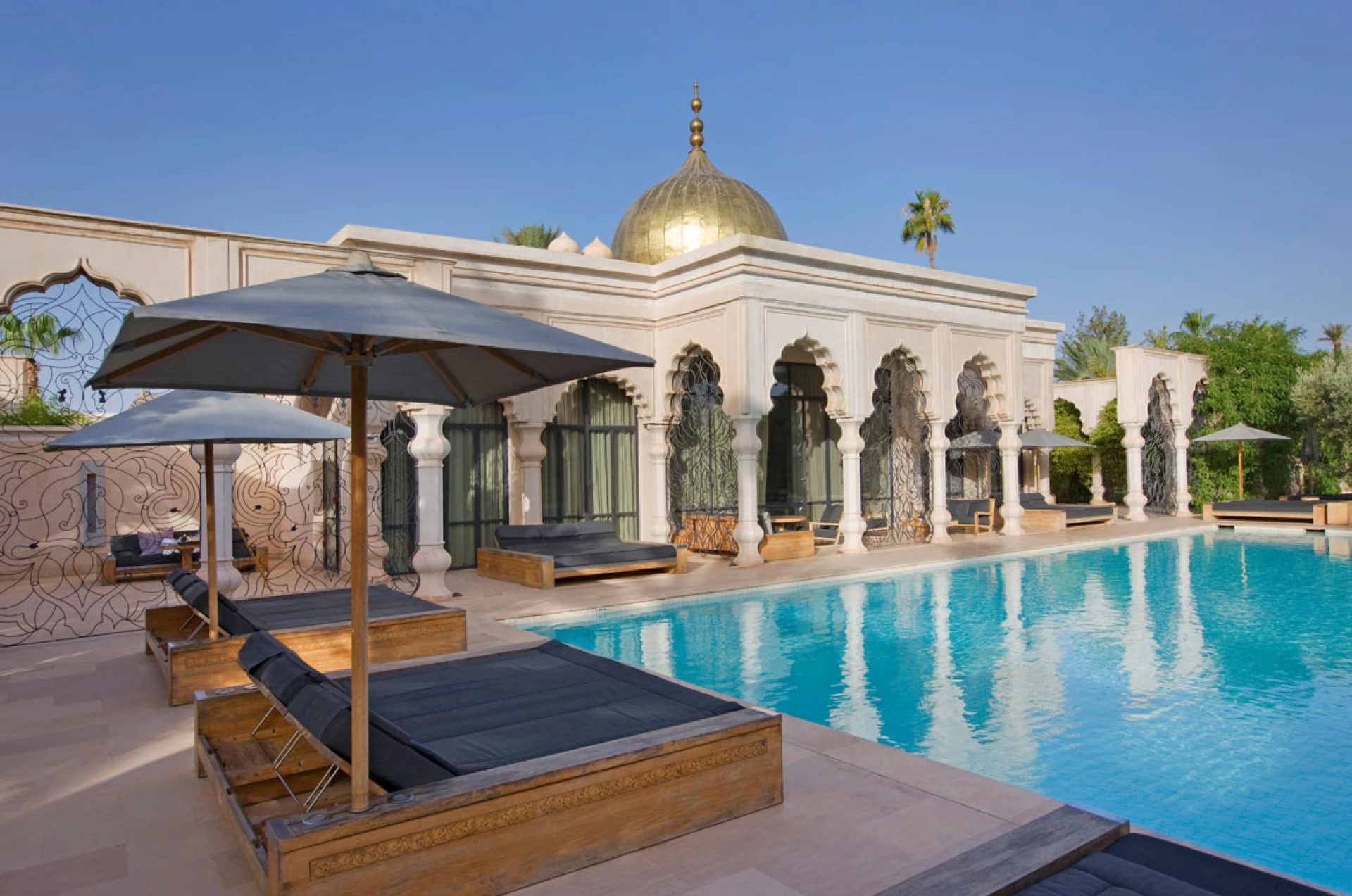 Palais Namaskar
The Atlas Mountains provide a stunning back drop to this luxurious hotel which is renowned for its spa therapies
The Atlas Mountains provide a stunning back drop to this luxurious hotel. It has a total of 41 rooms, suites, villas and palaces, each one connected by walkways which meander through 12 acres of gardens and pools. The hotel is renowned for its spa therapies and delicious mouth watering cuisine.
The Palais Namaskar offers a tranquil oasis close to the hustle and bustle of Marrakech. Spanning more than 12 acres, the resort boasts spacious and majestic accommodation, top-class dining and unparalleled service.
This is the perfect place for a relaxing break with Namaskar Spa offering a peaceful oasis where guests can enjoy a wide range of treatments including stress management and age prevention. There are four treatment rooms each with a private outdoor terrace. The integrated beauty salon provides hairdressing, pedicures and manicures.
The resort also has heated outdoor pools, Jacuzzis, tropical showers and outdoor baths plus a state-of-the-art fitness centre and personal trainers.
It's also easy to get out and about with the complimentary shuttle service to the city centre available in the daytime and a courtesy car evening service to local restaurants available in the evenings.
Luxury Holidays for Couples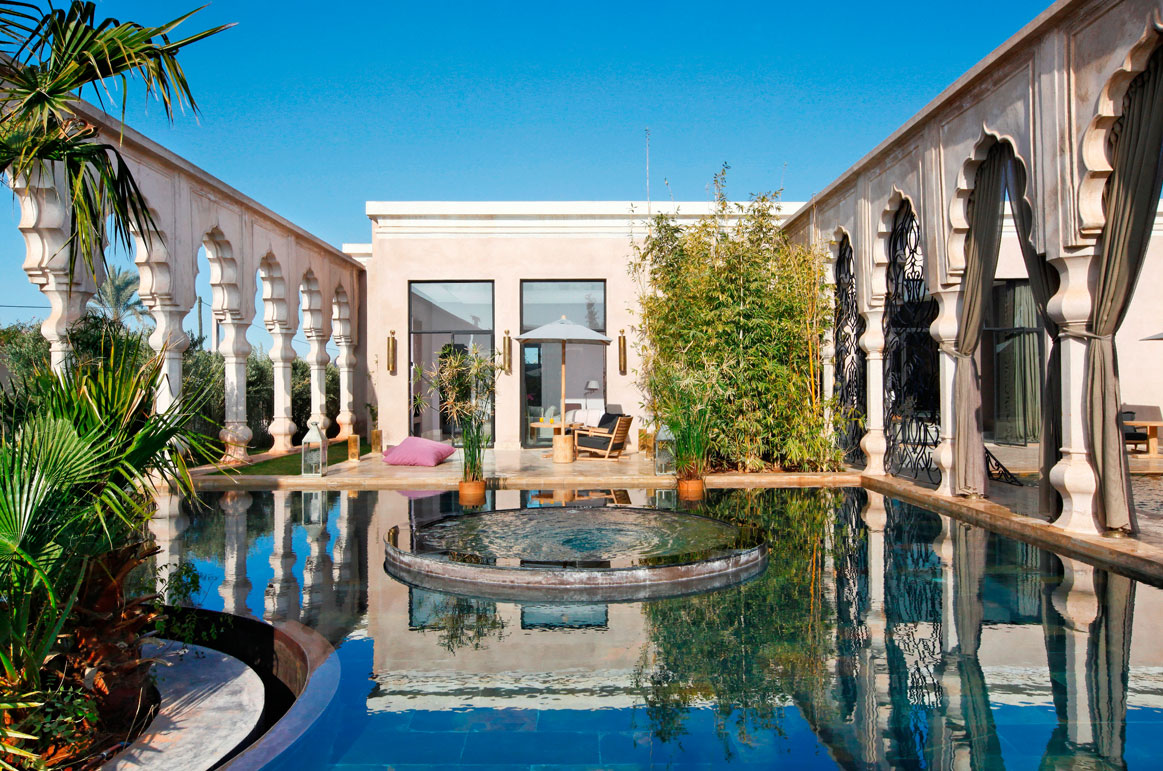 Deluxe Rooms
Deluxe rooms have a large bedroom with separate dressing area, bathroom with centre bathtub and double shower and 90 sq m terrace with heated plunge pool 44 sq m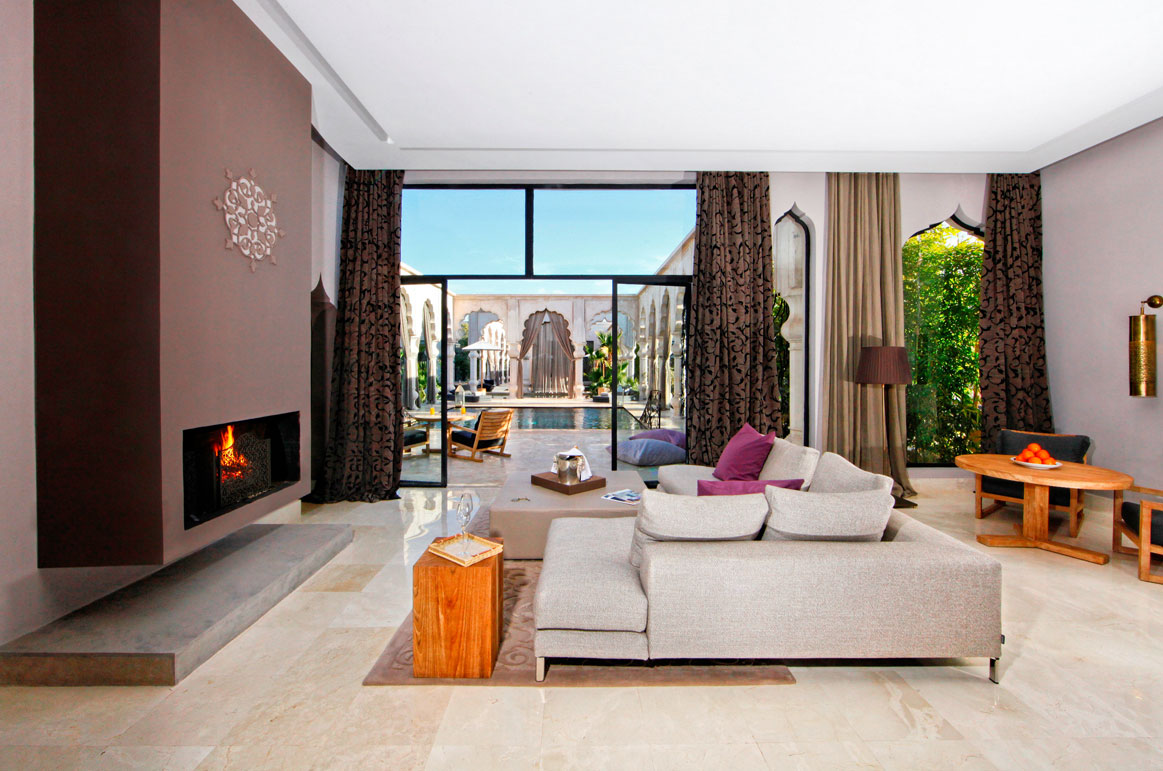 Pool Suites
Pool Suites have a bedroom, separate living room, bathroom with soaking tub and double shower, spacious terrace and private pool. Two Bedroom Pool Suites are also available. 108 sq m interior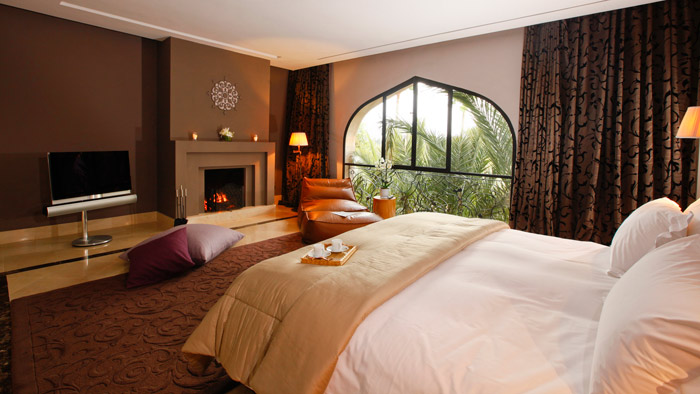 Lounge Suites
Lounge Suites have a 115 sq m interior plus a 50 sq m terrace with spectacular views of the Atlas Mountains.
Junior Suites
Junior Suites have a bedroom with its own scented terrace and day bed, open fireplace, bathroom with double shower, centre bathtub and outdoor shower, outdoor heated plunge pool and harmony pond. 90 sq m interior space 168 sq m terrace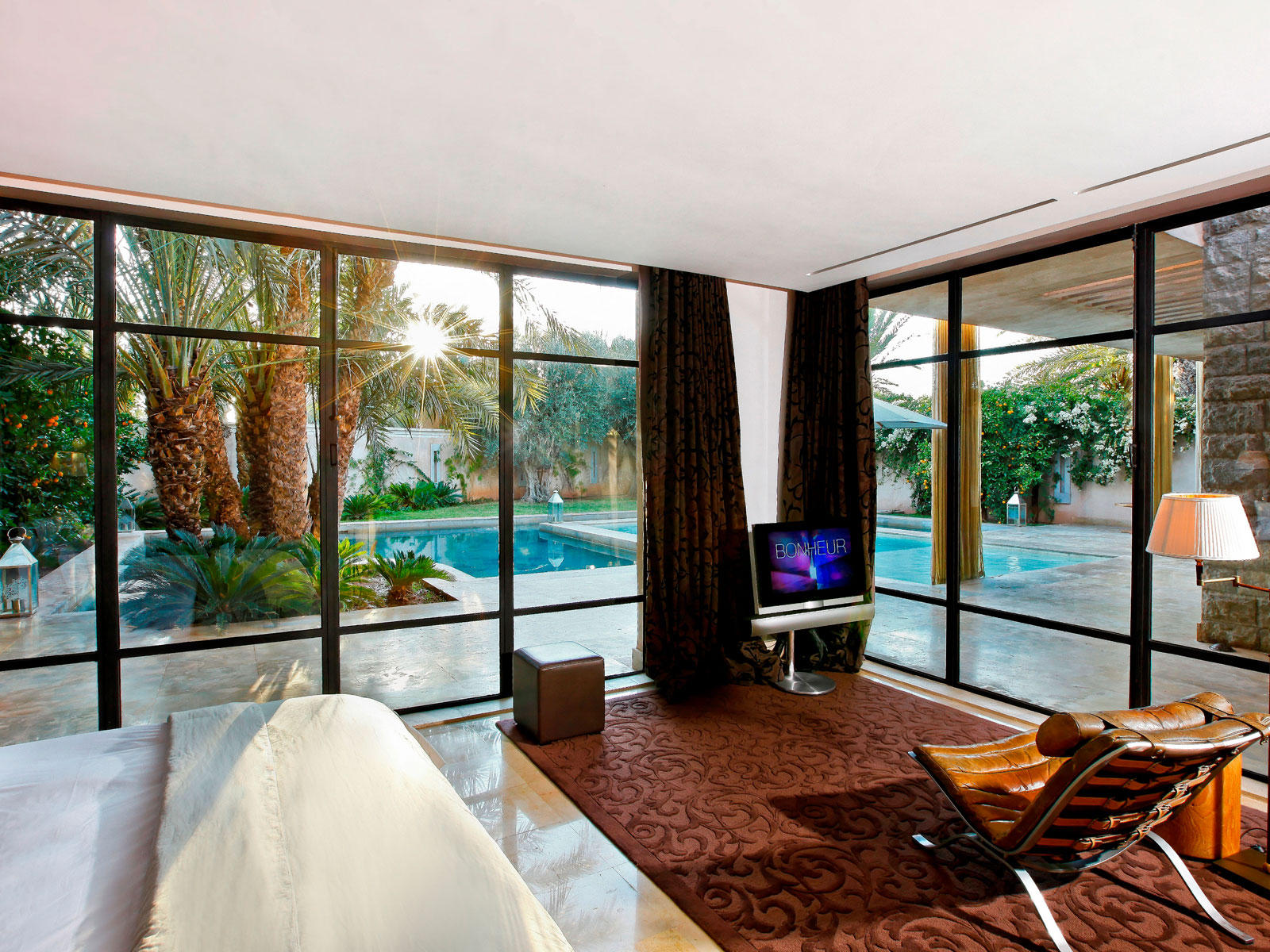 Pool Villas
Each pool villa is set within its own serene enclave and has a living room, open fireplace, master bedroom, bathroom with free-standing tub and outdoor plunge pool, private garden and heated pool. 127 sq m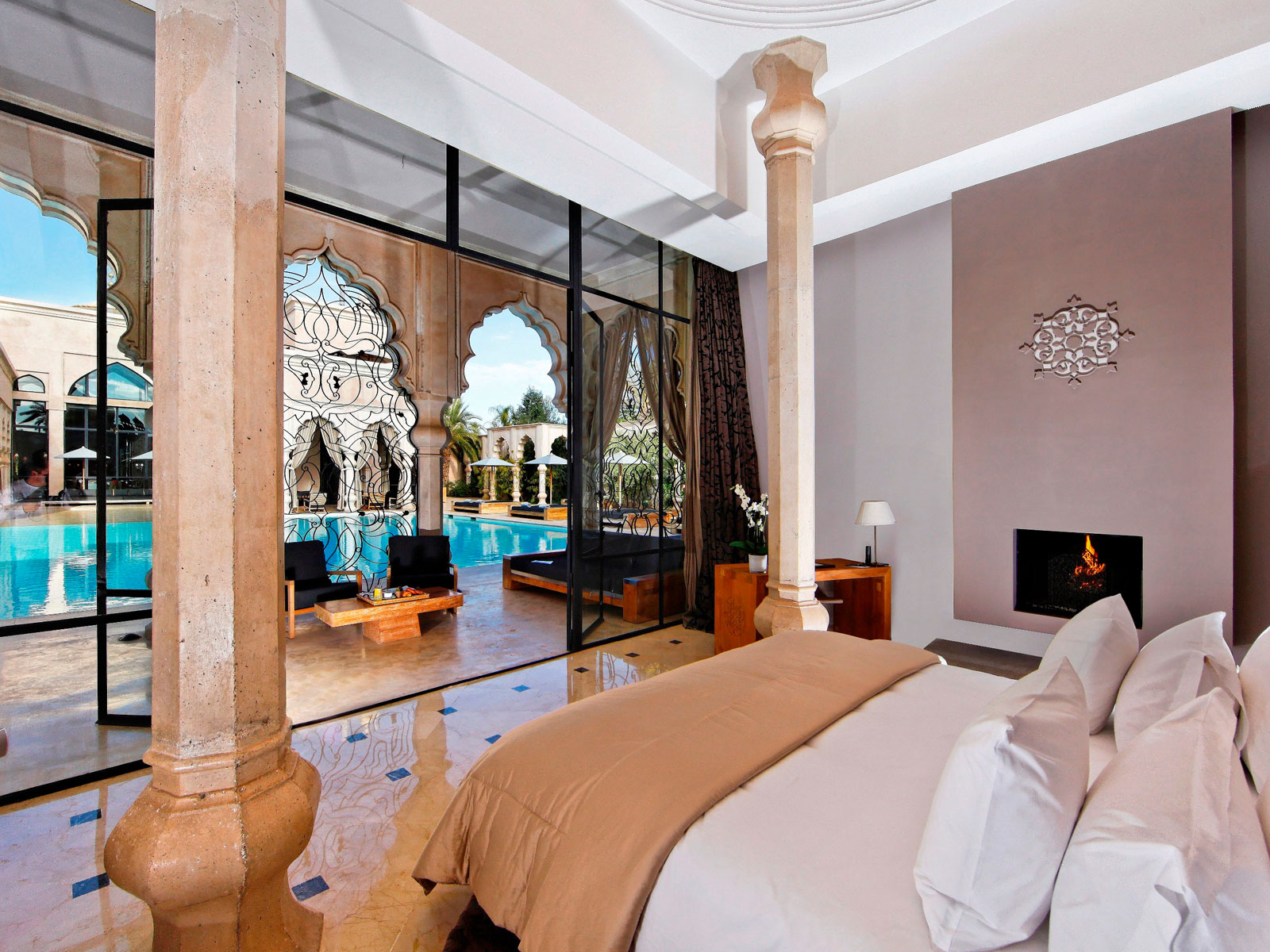 Villas Namaskar
Chic villas with 3 large bedrooms with lavish bathrooms that lead to a private plunge pool. marble floors, a secluded walled garden, ornamental pool and private butler. 487 sq m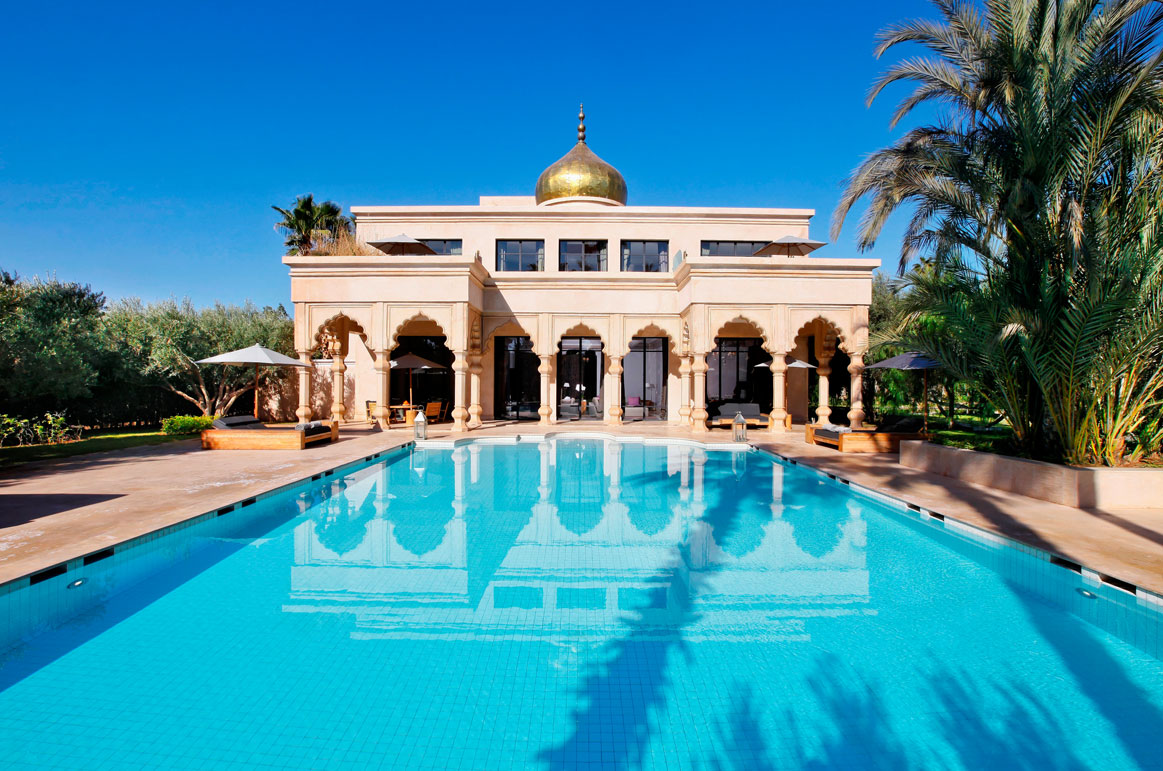 Palaces
The resort also has three 'palaces within a palace'. Each features stunning regal architecture, large pool and secluded walled gardens. Please contact us for full details.
Le Namaskar: A fine dining restaurant offering mouth watering French and Moroccan cuisine in a spectacular setting overlooking the beautiful Balines gardens.

Le Sawadee: Serves popular Asian cuisine with many of the ingredients grown in the hotels own organic gardens.

La Table: Opens daily for lunch and serves fish, home made pasta, grilled meats and sandwiches plus fresh fruit and vegetables from the hotels own gardens.
We'll call you back
Leave us your contact details and we will be in touch.