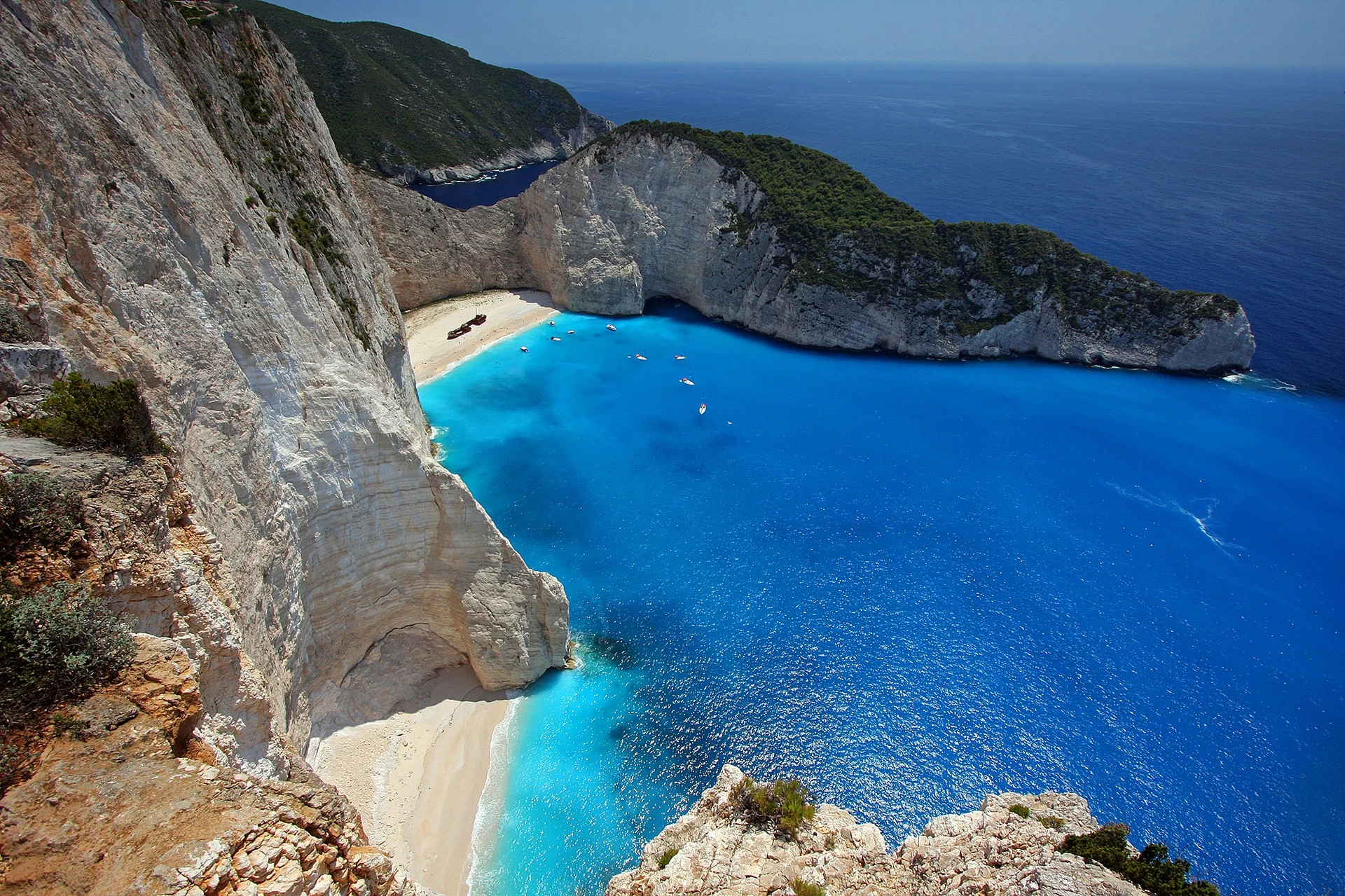 Luxury Holidays
in Zante
The perfect Greek Island, excellent beaches and a relaxed luxury getaway
Travel Information
Time Difference: GMT +2 hours 

Glass Bottomed Boat Tours
You can take a fantastic boat trip to the islands' famous Blue Caves where the sea waters inside the caves are a stunning turquoise colour. The caves are situated at Cape Skinari in the north of the island near the lighthouse. The boats travel right inside so you can view the magnificent marine life below.
Zante Town is reminiscent of Venice, with its historic St Mark's Square and Solomos Square lined with reconstructed neo-classical buildings. The picturesque town even curves around a bay, dominated by a Venetian Fortress and the St Dennis Cathedral. In and around the town, holidaymakers will find a range of activities to partake in, from shopping and sightseeing to visiting the excellent local wineries.
The lively resort of Laganas, in the South of the island, has a 5 mile long sandy beach and is known as the place to party. Elsewhere, you will find quieter resorts like Tsilivi with its fabulous beach of fine sand and is situated 6 kms north of Zante Town. Argassi has a stunning mountain backdrop, a long sand and shingle beach and a wide selection of bars, tavernas and restaurants.
If you fancy Greece and your idea of an ideal luxury holiday involves a beautiful beach and a relaxing getaway, you should seriously consider Zante, which is also known as Zakynthos. Zante is the most southerly of the Ionian Islands and the third largest behind Corfu and Kefalonia. The island boasts mountainous landscapes in the north and gentle hills and rolling countryside in the south. You will find lush countryside rich with olive groves, lemon trees and bougainvillaea plus a stunning coastline and plenty of beaches just perfect for lazing your days away. Zante is an important nesting spot for loggerhead turtles (also known as Caretta Caretta turtles). One of the best places for spotting these amazing creatures is Marathonissi Island, particularly at sundown between July and August. Kalamaki is a peaceful resort close to Zante Town and within easy reach of the airport, ideal for travellers that like short transfer times! The beach is excellent and there's a wide selection of bars and tavernas plus there's a large waterpark nearby. Those seeking a more lively resort should choose Argassi which has plenty of clubs and bars, excellent watersports, fantastic gastronomy and a good choice of historic sights within easy reach. For a stunning photo opportunity, take a trip to Navagio Beach (Shipwreck Beach). Only accessible by boat, you'll find this is a very popular spot but it's well worth taking the time to visit. Other beaches of note include Alykes Beach which is incredibly clean and has shallow waters ideal for families and Porto Limnionas Beach with its crystal clear waters and a wonderful local restaurant that enjoys amazing views. The experienced travel experts at Designer Travel are available to help you plan your tailor-made itinerary for your trip to Zante, or indeed, to anywhere else in the world. Whether it's a short stay, a week or two in the sun or a long trip of a lifetime, we can help. As an award-winning company offering ABTA-bonded products, we take care to search for the best options for our customers and make recommendations that we think you will love. We are here to make your life easier and your holiday memorable as we also offer a full after-sales service, ensuring everything goes smoothly from start to finish. So, don't delay...give us a call or fill in the enquiry box and we can start planning your next dream luxury holiday to Zante or wherever else you want to go!
Zante experiences a typical Mediterranean climate with hot summers and cooler winters. July is the hottest month with an average daytime temperature of 26°C. August and September can also be very hot. Temperatures in the coldest month of December can drop to 11°C. October to March are the wettest months.
Population

Approximately 40,000
Your Holiday Starts Now
Why not chat to one of our experts!
Start your holiday now with a conversation with one of our Zante Personal Travel Experts!
We'll call you back
Leave us your contact details and we will be in touch.