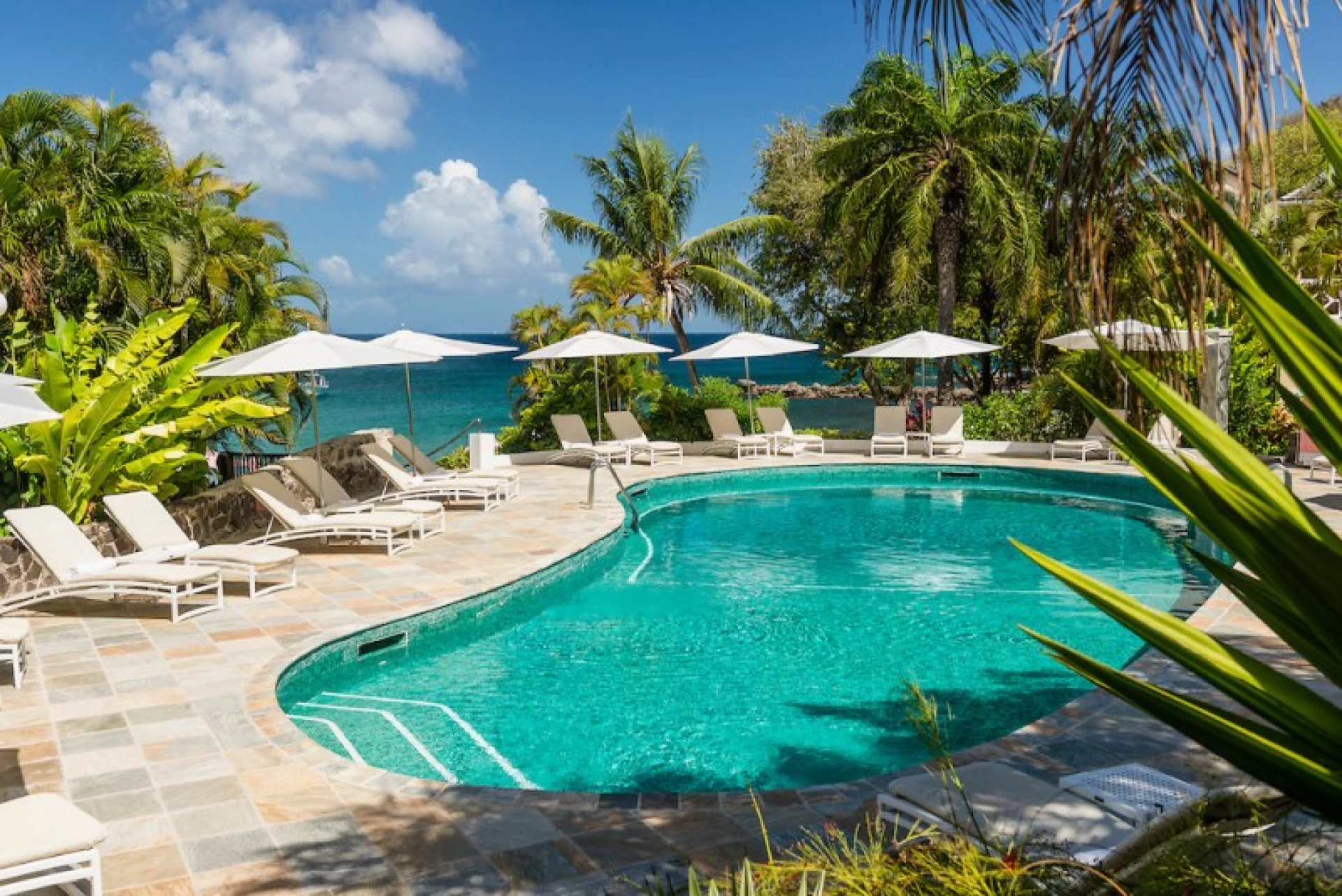 BodyHoliday Saint Lucia
The most idyllic place for a Caribbean all-inclusive spa holiday
The BodyHoliday is set on a private cove in the North West of Saint Lucia and is an all-inclusive resort created specifically to leave you feeling relaxed and recharged. Guests receive a truly luxurious and personal service with a Wellness Centre that provides a fantastic range of treatments and plenty of activities that could keep you busy from dawn until dusk.
The award-winning cuisine is exceptional and you'll be spoilt for choice with five great restaurants as well as the relaxing bars.
There's a great choice of accommodation as well as five-star amenities. It's the perfect holiday for total well-being.
Designed with fitness in mind, you'll find the resort has a fabulous choice of activities, fitness classes and specialised sports programmes available plus you can customise your own schedule before you arrive. With yoga, sailing, scuba diving, fencing, beach sports, cycling, golf, tennis, archery, windsurfing and much, much more, there is plenty to keep you hearty and healthy at BodyHoliday Saint Lucia.
The Wellness Centre is a tranquil sanctuary where you can take care of your mind, body and soul. A range of massages, therapies and treatments are available and a personalised schedule of spa activities can be tailored and planned to your needs and wishes before you even arrive.
Food is top-notch with five restaurants at the resort and a culinary team experienced in handling requests for dishes catering for guests requests, including gluten free, low carb and low fat choices.
Please note:
- child restrictions apply at this resort - check with us for details.
- additional charges apply for selected activities, facilities and aspects of your stay. Please contact us for further details.
Luxury Holidays for Couples
Overview

All rooms are air conditioned, with direct dial telephone, voice mail facility, internet connectivity, clock radio, in-room safe, private bath or shower, bathrobe, hairdryer.
Garden Rooms
Generously sized rooms for single travellers. Each has a king size four poster bed and delightful garden view.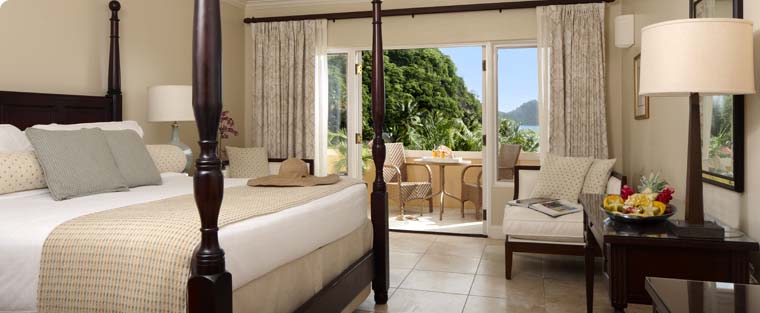 Luxury Rooms
Stylish suites located in a four storey building overlooking the lush gardens. Rooms have a mahogany king size bed or two queen beds, writing desk, armchair, chaise long, bathroom with all-over jet shower, french doors leading to a furnished balcony or terrace.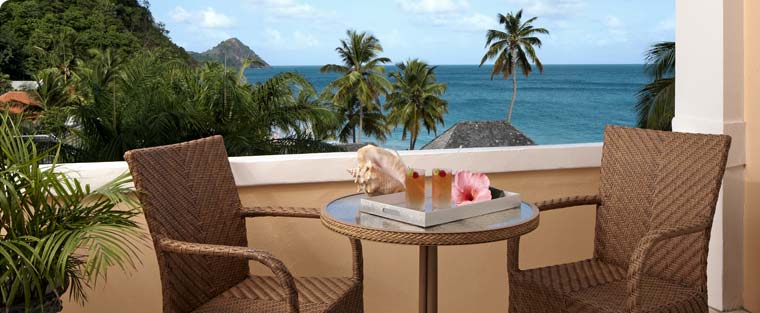 Luxury Ocean Front Rooms
Relax in a room close to the sea where you can hear the gentle waves breaking. These luxurious rooms have a writing desk, king size four poster bed, oversized bathroom and furnished balcony, Wi-Fi.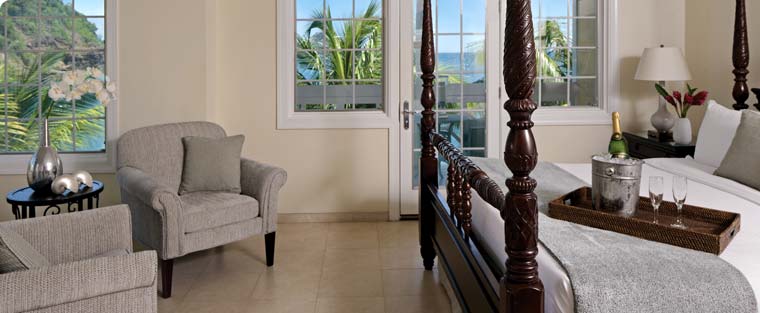 Grand Luxury Ocean Front Junior Suites
Beautiful suites with a sitting room area, four poster king size bed, mini fridge, large marble bathroom with bath and shower, Wi-Fi and spacious furnished balcony with sea views.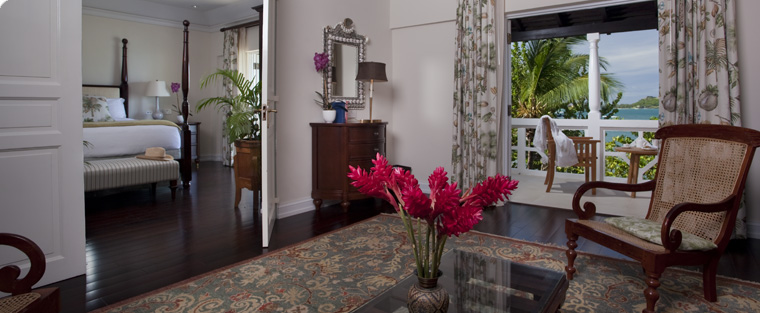 Grand Luxury Ocean Front Suites
Located on the top floor of a two storey building adjacent to the sea, these suites have a bedroom and a living room divided by a double door, marble floors, wet bar, furnished double size balcony, Wi-Fi.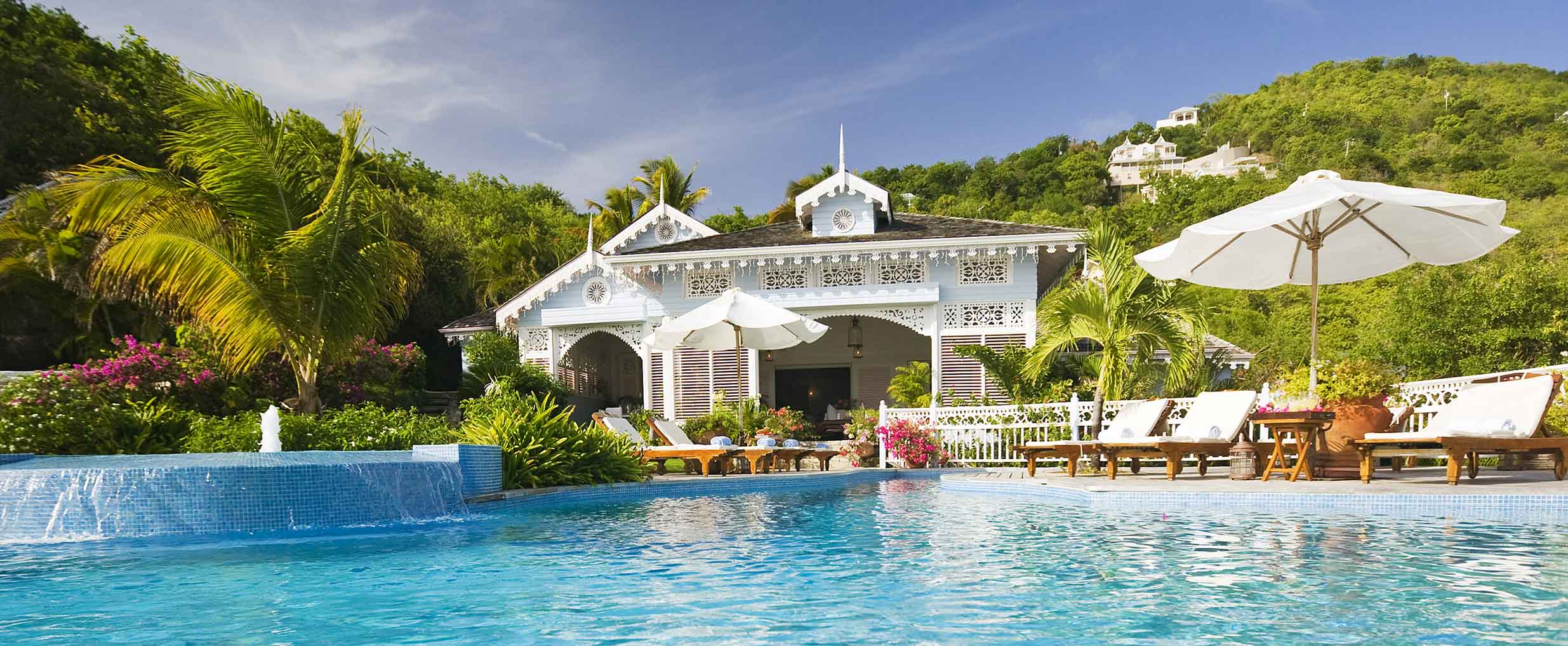 Other Accommodation
For discerning guests requiring more space or larger parties who wish to stay together, there is also The Penthouse Suite and the Villa Hibiscus.

Please contact us for further details on these accommodation options.
TAO:
A multi-award winning restaurant known for it's fusions of Eastern and Western cuisine. Enjoy the stylish ambience and pleasant sea breeze at this restaurant located on a second-floor balcony at the edge of Cariblue Beach.
The Clubhouse/Pavilion: The Clubhouse is a charming place to linger over a drink or afternoon tea. In the evening, there is tasty and uniquely styled food at The Pavilion which has a buffet, grill and pizza oven right on the seaside boardwalk.
Cariblue: Breakfast and lunch featuring Mediterranean, Oriental, Mexican, Italian and international dishes served within the sights, sounds and smells of the sea and lush gardens. In the evenings, the Cariblue buffet area transforms into a chic and cosy restaurant where you can observe dishes being created at the live cooking stations or take in the view at the banquet tables along the windows as you dine.




Your Holiday Starts Now
Why not chat to one of our experts!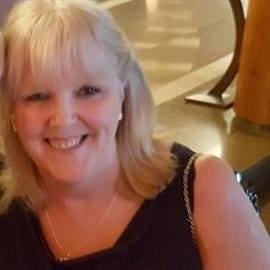 Start your holiday now with a conversation with one of our St Lucia Personal Travel Experts!
We'll call you back
Leave us your contact details and we will be in touch.