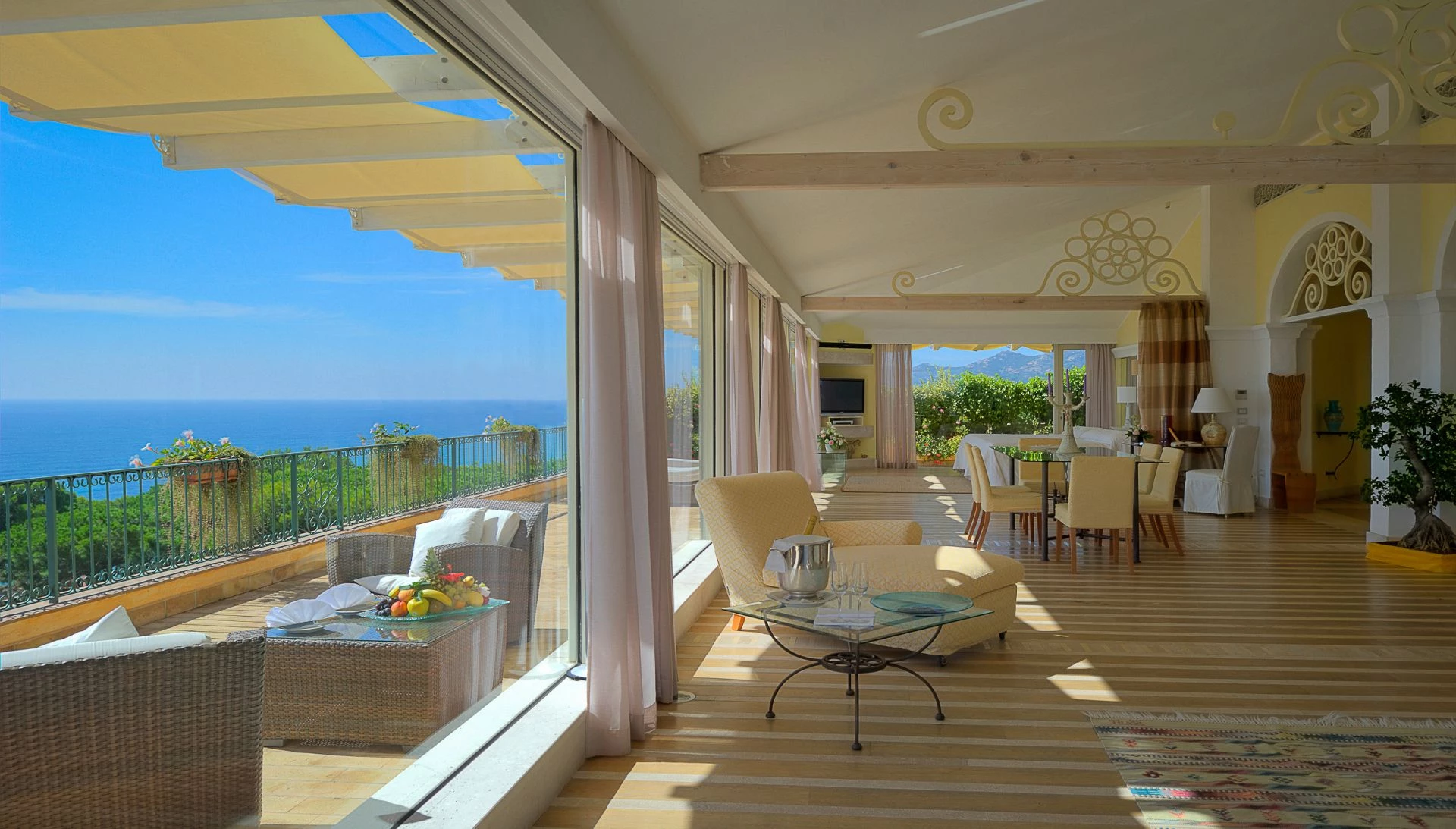 Forte Village Resort
A Mediterranean hideaway offering privacy, great services and a wealth of facilities
Located on the coast of Sardinia, a 40 minute drive from Cagliari Airport, the hotel is surrounded by 47 hectares of wonderful gardens. Sardinia is blessed with an amazing climate with on average 300 days of sunshine a year enabling the Forte Village to offer a wide range of sports and facilities designed to ensure every guest has an amazing experience.
The resort is home to a large pine wood, dense Mediterranean undergrowth and colourful and exotic plants including cacti. It's one of the world's leading resort destinations and guests return here year after year.
There are fine dining experiences created by Michelin-starred chefs who have created an impressive array of signature dishes - choose from local Italian flavours (and learn more about to create them at the Forte Gourmet cooking school), visit the Heinz Beck restaurant or one of the other six in resort restaurants to sample a range of international dishes.
This resort is perfect for relaxing but also offers an array of activities and children are well catered for. It's not hard to see why the Forte Village really does have something to offer everyone.
For evening entertainment the place to go is the Piazza Maria Luigia - here you can experience a live show, visit a bar or the shops. The resort also has a nightclub for those who enjoy a high energy music and dancing. There are great live bands and top DJ's.
They taking sporting activities very seriously at Forte Village. There is a Chelsea Football Academy, Wentworth Golf Academy, rugby, tennis, bike, cricket, swimming and a CSKA basketball academy.
For those guests looking to make the most of the relaxation opportunities available there is the resort's Thalasso Spa to investigate. This has achieved inclusion into the Leading Spas of the World listing. There are therapies, massages, a Turkish bath plus the amazing thalassotherapy method of relaxation which involves six seawater pools all operating at different temperatures with varying salt concentrations.
Forte Village caters for children of all ages. The resort team make no bones about 'loving kids' which is why there is so much for families to take advantage of. Welcoming toddlers through to 12 years olds, children can play in a safe and secure environment. Amenities include a nursery, dedicated children's restaurant and 'Citta dei Bambini' set in the heart of the village offering a pool area, activities and so much more.
Plus, there's Lesuireland - with it's own go-cart track, bowling alley and climbing wall and the resort has ten pools and an amazing beach!
Hotel Options

There are a huge choice of rooms, suites and hotels at the Forte Village Resort so let us know your requirements, and we'll be happy to advise you.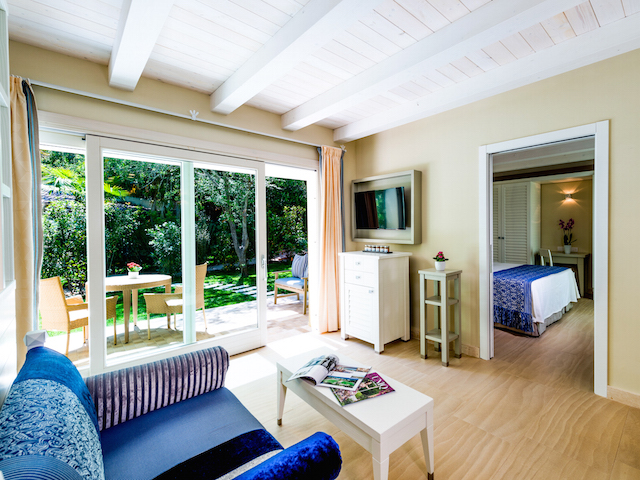 Bouganville
Near the spa and main swimming pool so ideally situated for sports and leisure activities.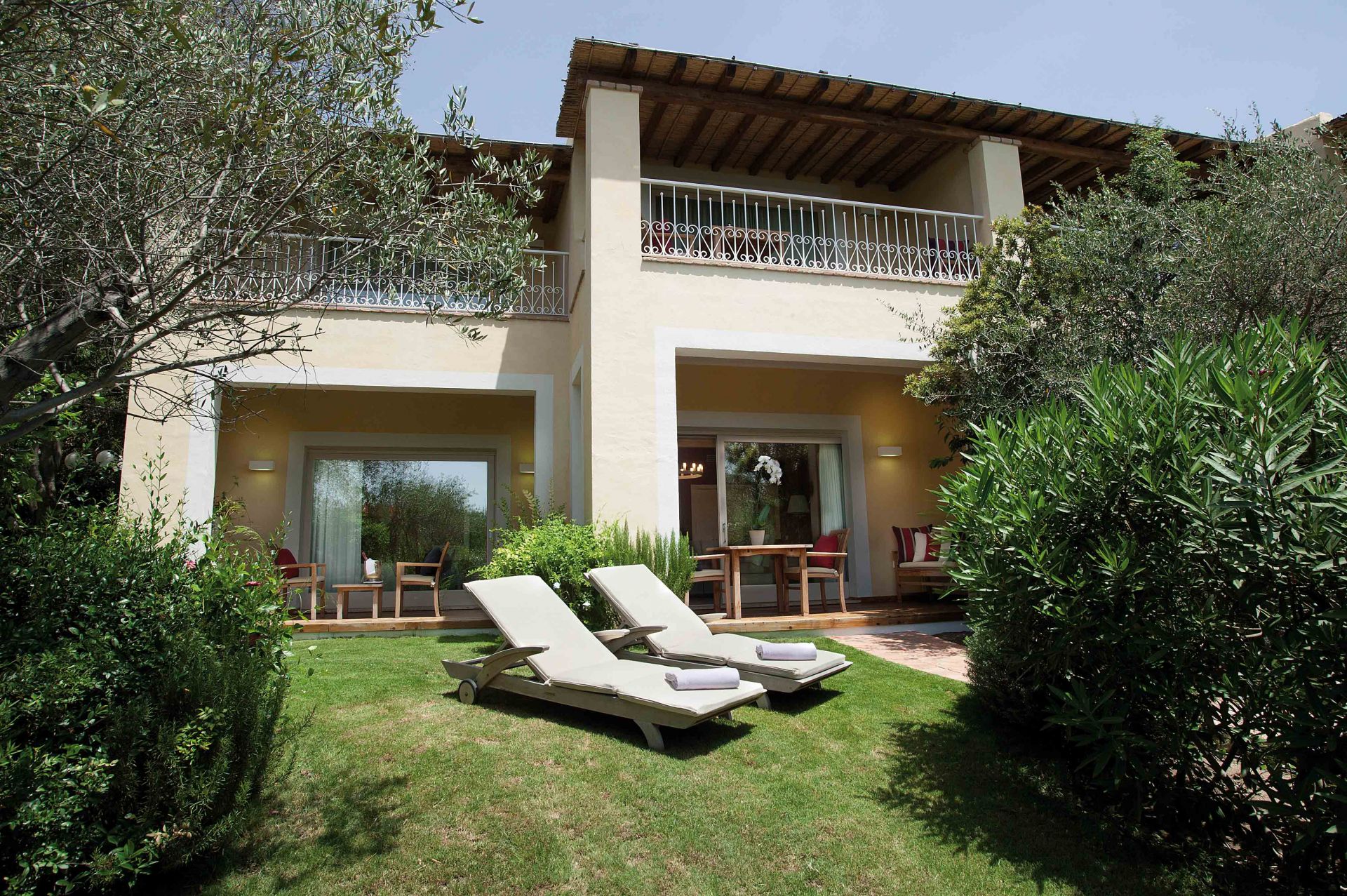 Le Dune
Le Dune offers a collection of bungalows and suites, with a position close to the sea. The bungalows have a private garden and a patio, bathroom with bathtub, shower and hair dryer.

A number of the bungalows have living areas with a sofa that can converted into an extra bed.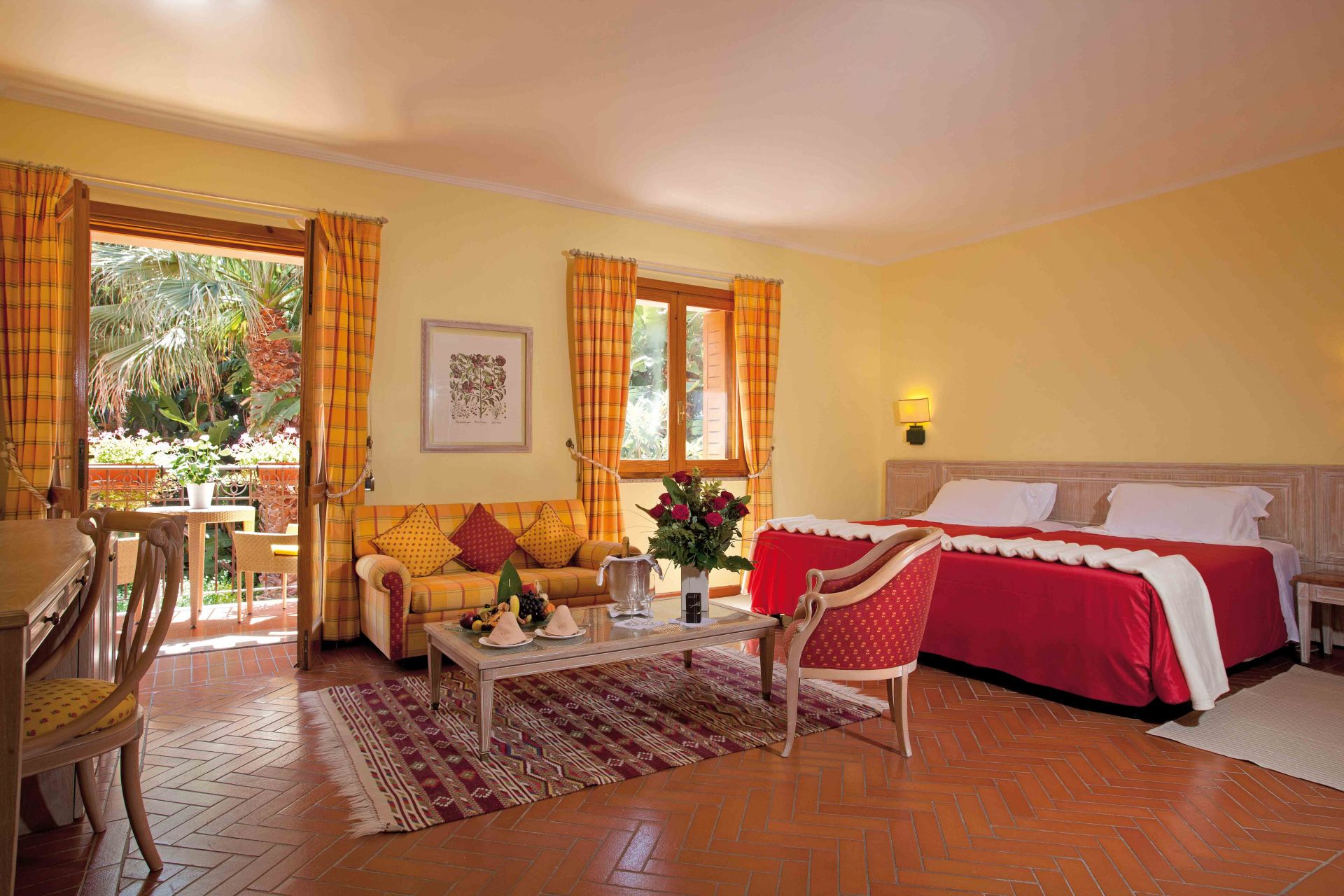 Villa Del Parco
Nestled in the pine forest. Villa Del Parco is connected to the Thalassotheraphy Spa Centre via a private corridor.

There are bungalow and hotel room options - a number of the bungalows and rooms are adjoining.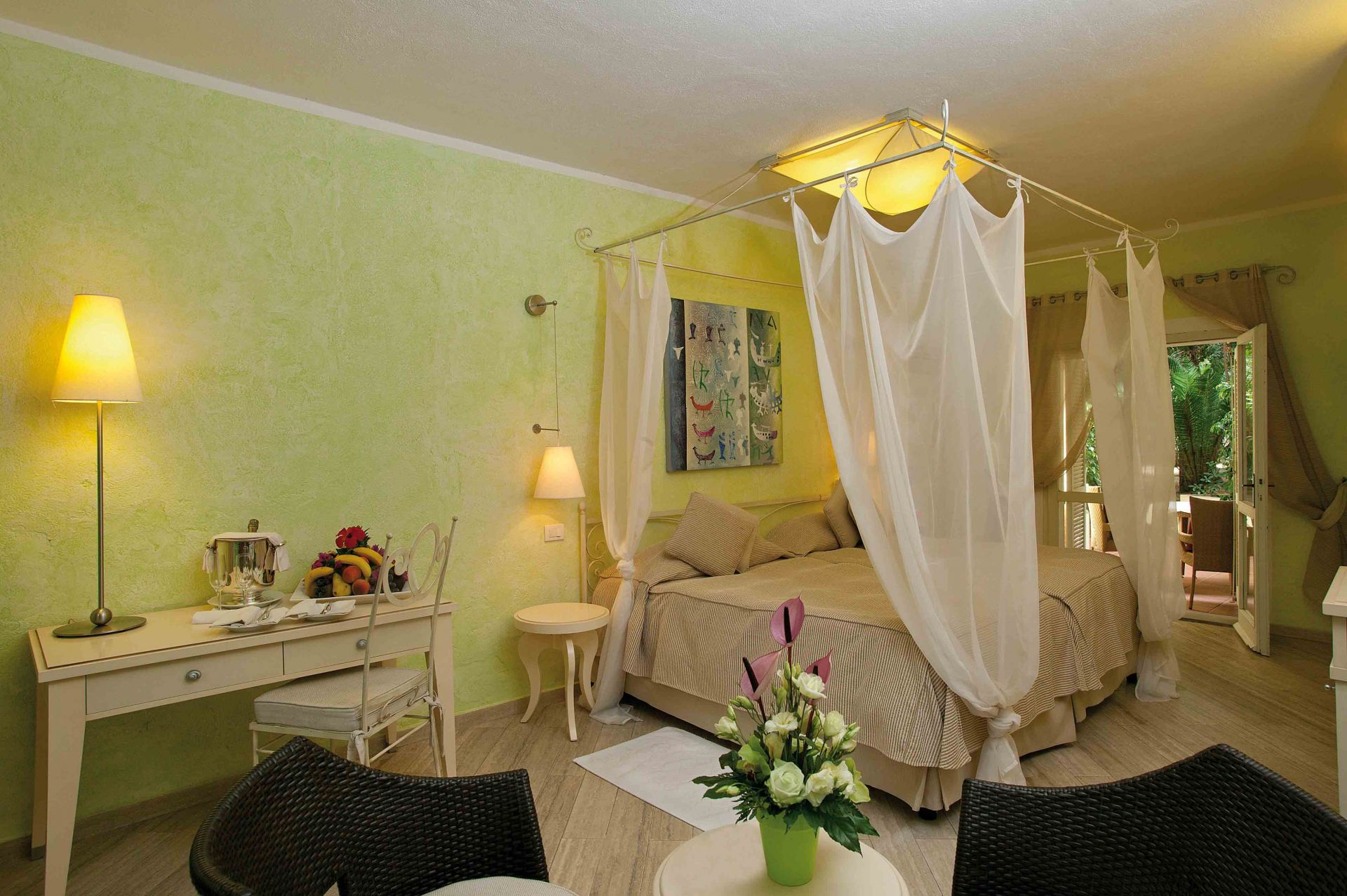 Royal Pineta
The Royal Pineta is a two storey, horse shoe shaped building offering spacious double and triple rooms - an idea choice for families rooms have a patio or balcony.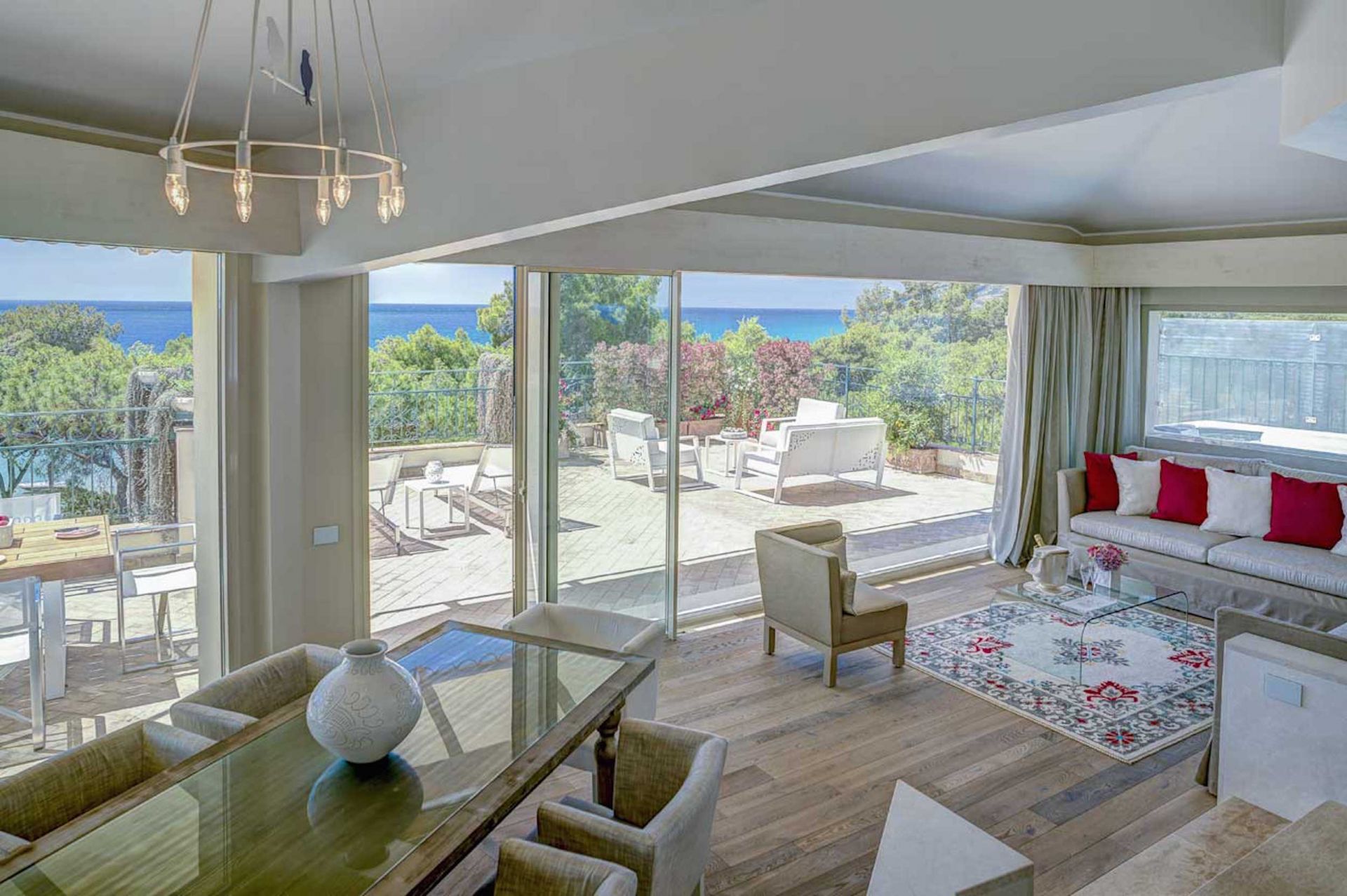 Il Castello
Located in one of the most exclusive areas of the resort, there are rooms and suite options to choose from.

Room categories range from Superior to Superior Garden, Superior Mare, Executive Mare, Deluxe Patio, Prestige and Prestige Plus.

You will also find Junior Suites and Suites at this hotel. - all offering great sea views and benefiting from panoramic terraces.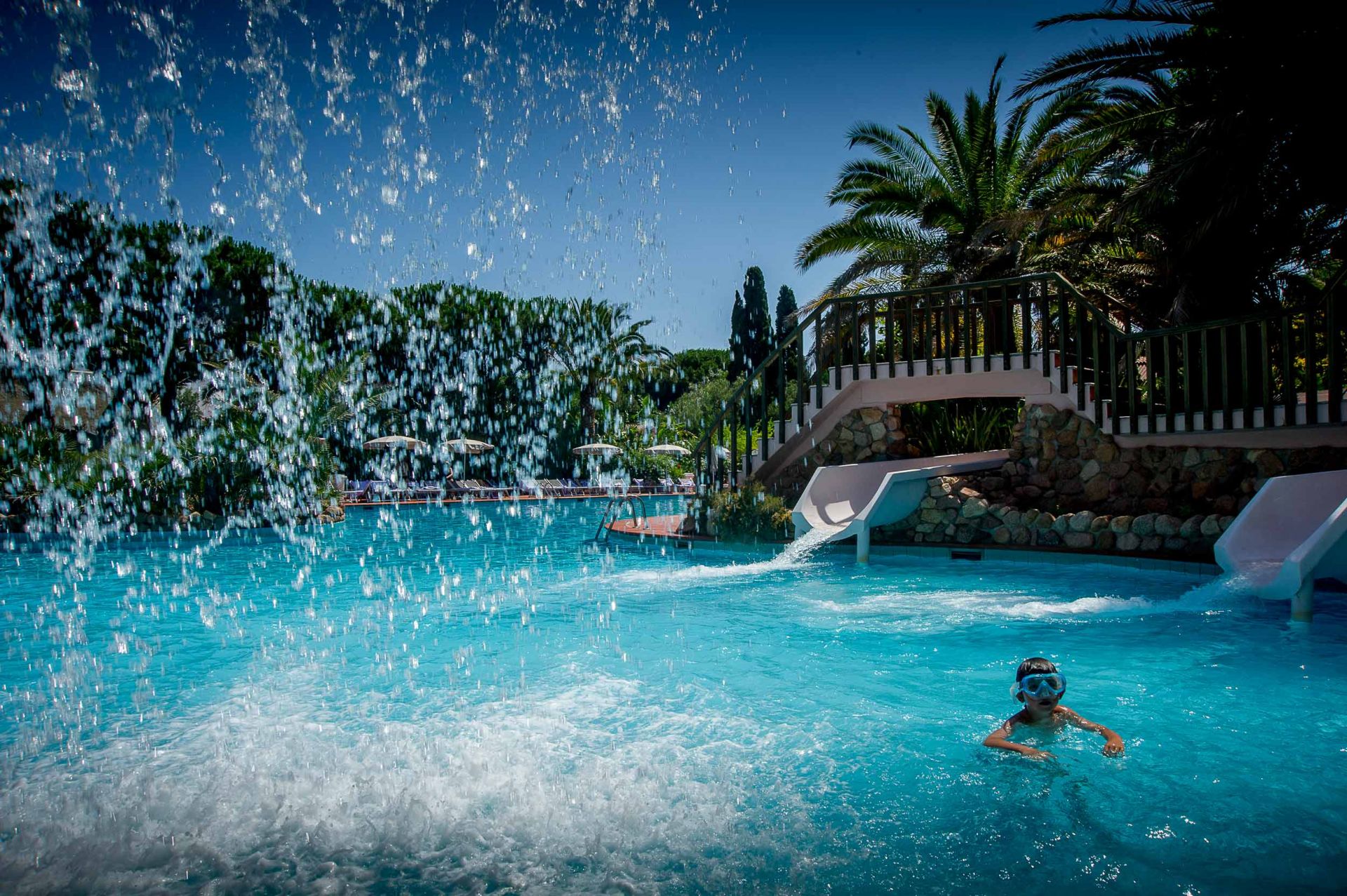 Il Borgo
Il Borgo is set at the highest point of the resort on top of a hill. Bungalow accommodation is available here with each bungalow offering a lounge, patio or balcony.

Children's City is nearby along with the Oasis pool and the seawater Baia delle Palme pool equipped with slides!
Le Palme
Le Palme offers a group of family sized bungalows located in the pine forest with the beach nearby.

There are four bungalow categories including Superior, Superior Roof, Family Bungalow and Family Bungalow Plus.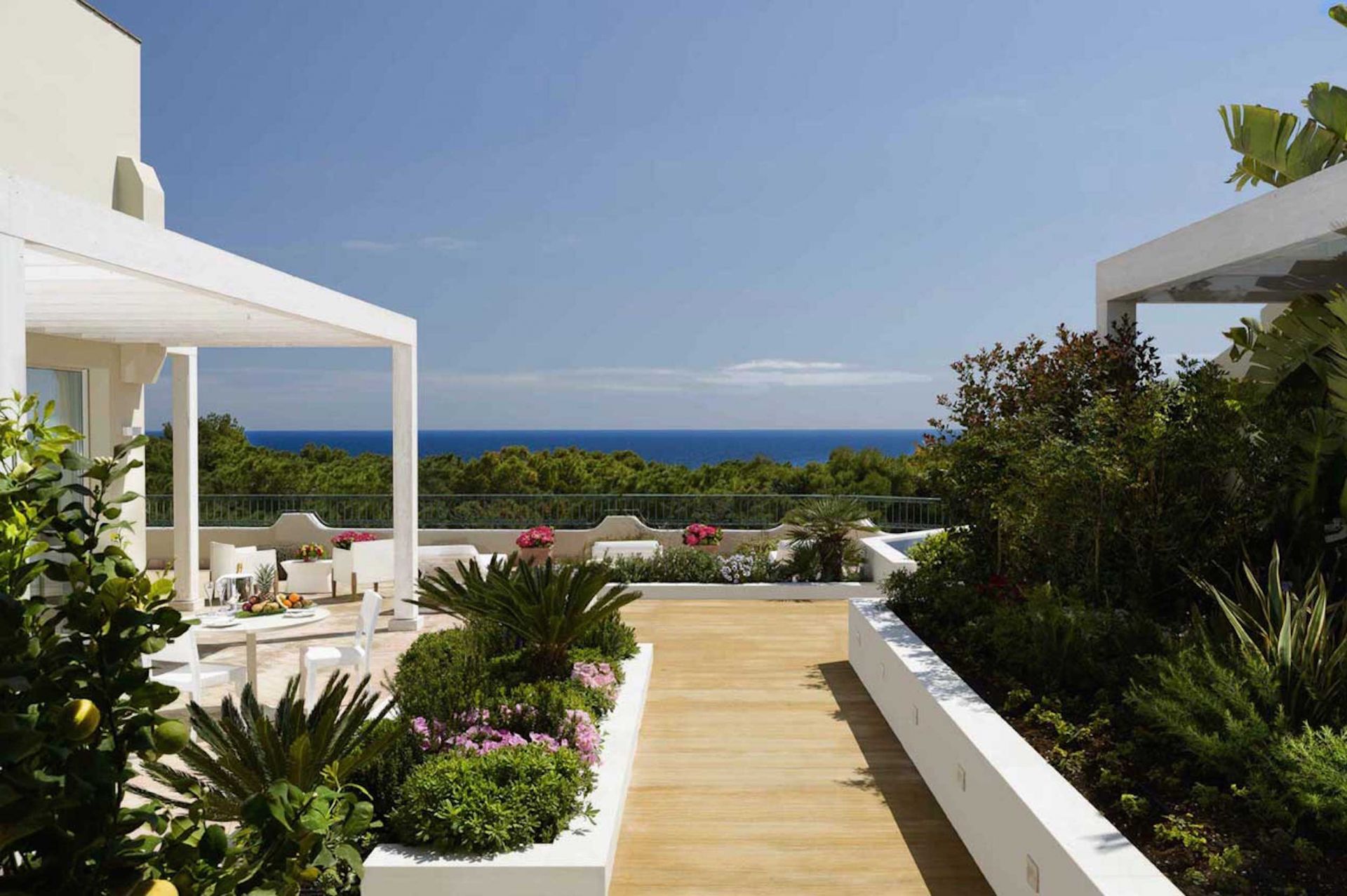 Il Villaggio
The bungalow style accommodation offers a range of options from single to twin, double and those with family size rooms. Il Villaggio is located in a Mediterranean garden setting. An ideal choice for families.

There are Suite options available around the resort. The two resort villas offer the ultimate in style and space and flexibility in terms of how the accommodation can be arranged.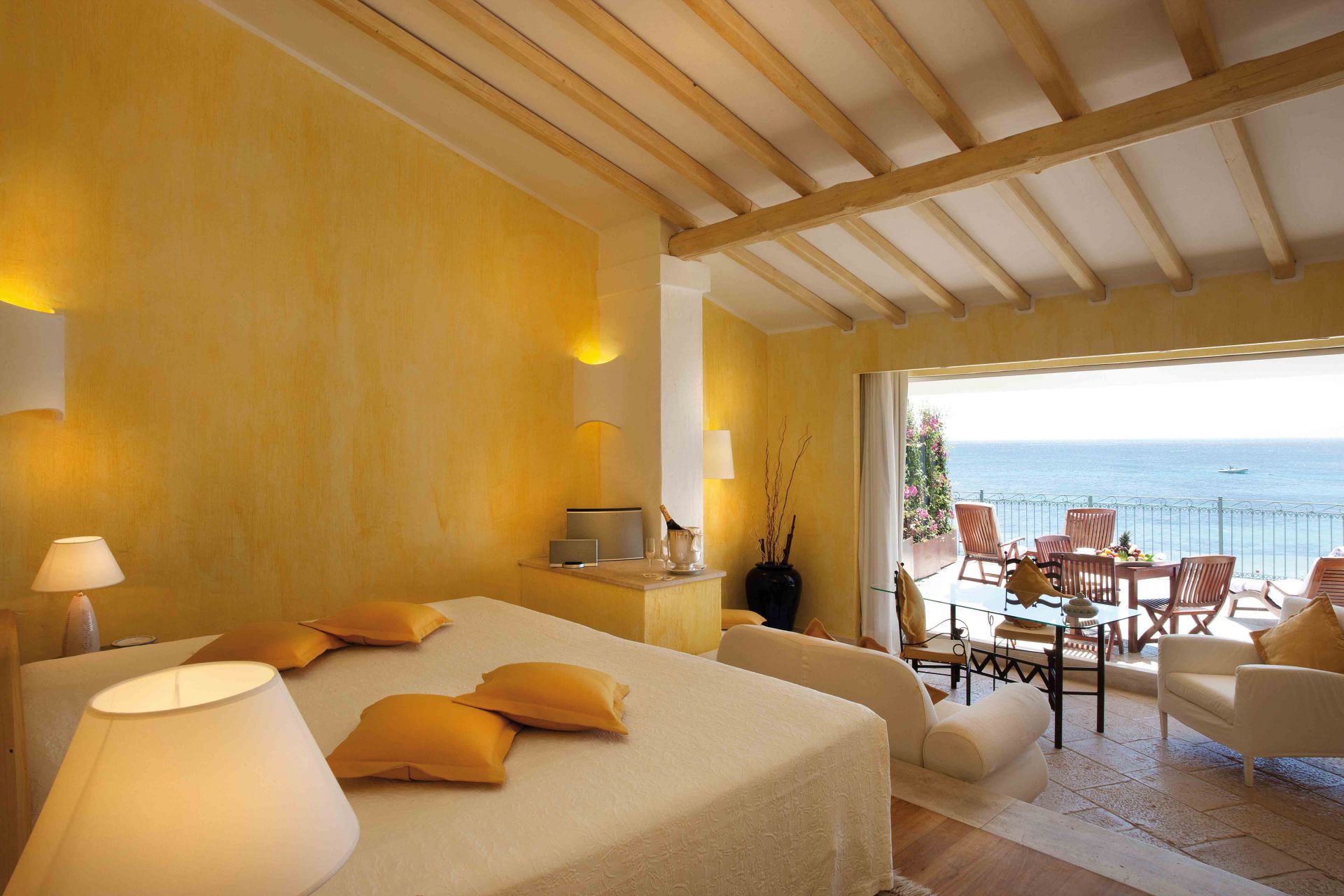 Cala Del Forte
Sits almost at the waters edge. There are four suites to chose from with interconnecting options. Each suite offers around 108 sq m of space .

There are wonderful views to enjoy and all of the suites has direct access to the heated freshwater Castello pool which leads directly to the beach.
The resort offers a wide range of dining options. Most packages to Forte Village include either breakfast or half board arrangements (breakfast and an evening meal).
Your Holiday Starts Now
Why not chat to one of our experts!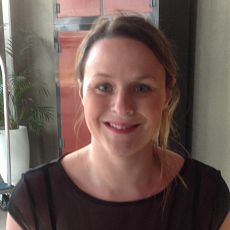 Start your holiday now with a conversation with one of our Sardinia Personal Travel Experts!
We'll call you back
Leave us your contact details and we will be in touch.