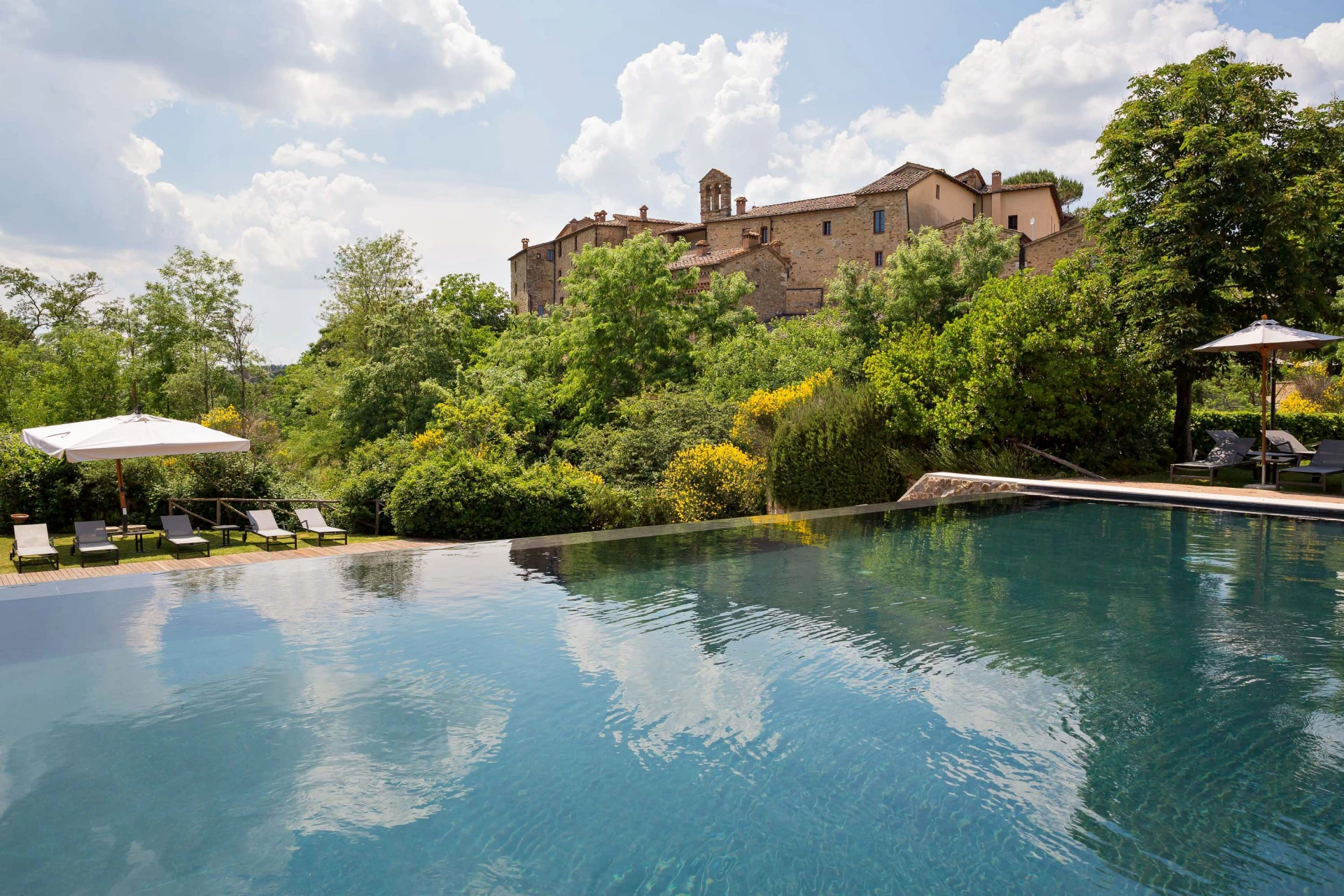 Castel Monastero
Located in one of the most picturesque parts of the Italian countryside
Castel Monastero is set over four acres of land, surrounded by green rolling hills and boasts mesmerising views of the vineyards, gardens and the Piazza. Getting to Castel Monastero is a joy in itself and will allow you to take a glimpse at some of Italy's prettiest sections of countryside, from the expansive fields, Chianti vines and long rows of cypress trees, to the medieval village called 'Monastero d'Ombrone', surviving from the 11th Century.
Castel Monastero has been lovingly restored and is now a spectacular 75 room Country House Resort, set in 4 acres of greenery, combining rustic elegance with contemporary style and designs.
This is an ideal countryside base for those wishing to explore Tuscany.
Your free time can be as relaxing or busy as you want it to be at Castel Monastero. The luxury spa offers a wide range of treatments exclusively designed by Urban Retreats. The Spa features an indoor wet area, Finnish sauna, Hammam, sensory showers, Kneipp hydrotherapy and two pools, one featuring high saline concentration with revitalising and muscle relaxant properties. There's also a gym if you feel in need of a work out.
The Villa Sesta Polo Club is just a few kilometres away, or golf lovers can play a round of gold at the 18 hole Golf Club Ugolino which is an hours drive away from the hotel. Alternatively, Golf Club Valdichiana has a 9 hole course.
If food is your passion, the Castel Monastero "Tuscan Retreat Cookery Program" is ideal! It was created by a well-renowned UK chef and the hotels resident chef to explore the true essence of Tuscan and Italian cuisine, using fresh local ingredients to create fine dishes. Beginners and advanced classes are available. It's an excellent hands-on experience which will teach you how to create wonderful, authentic speciality dishes.
Finally, for something truly unique, there's a Truffle hunting programme that runs each Autumn. You can accompany an expert truffle hunter and his pack of dogs through the fields and woods at Castel Monastero in the morning light. A traditional lunch, featuring truffles of course, is then taken at La Cantina restaurant.
Luxury Holidays for Couples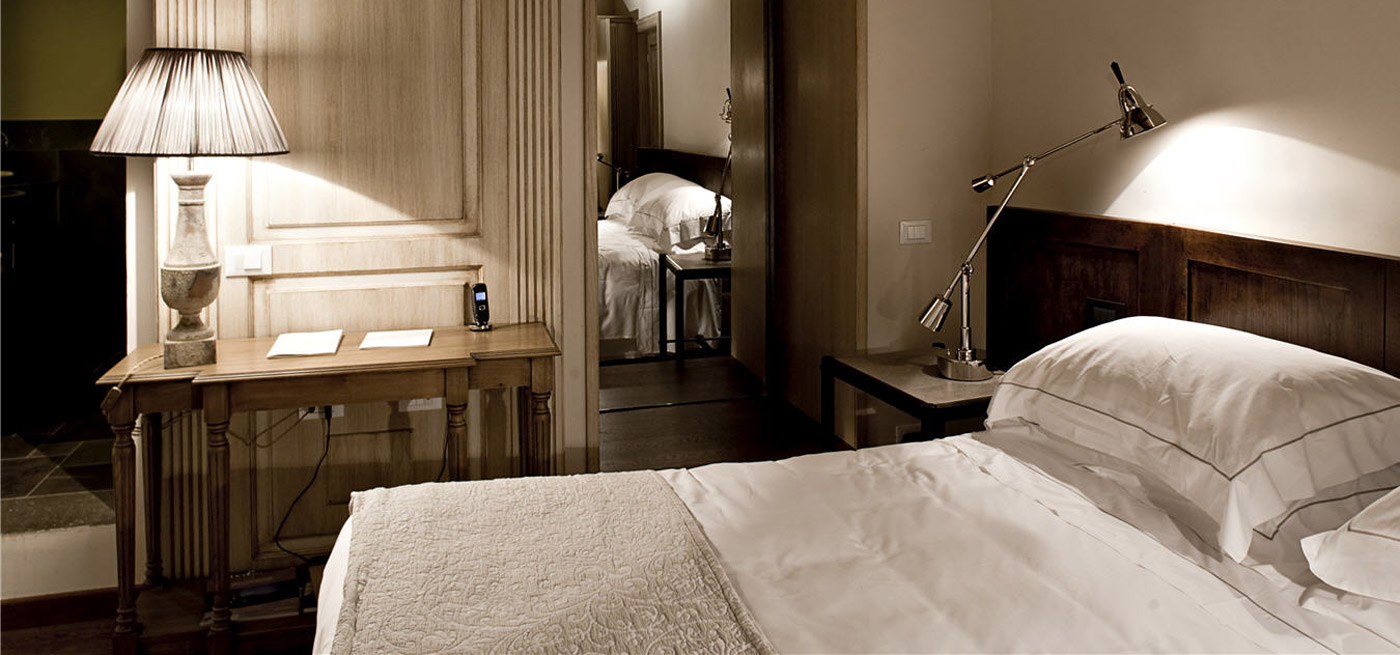 Superior, Deluxe & Prestige Rooms
A warm, intimate room furnished in Tuscan country style featuring a large bedroom, bathroom with bathtub and shower, Wi-Fi, LCD TV and minibar. Rooms have a view of the Piazza or the surrounding countryside.

Occupancy: from 2 to 3 guests
25-51 sq m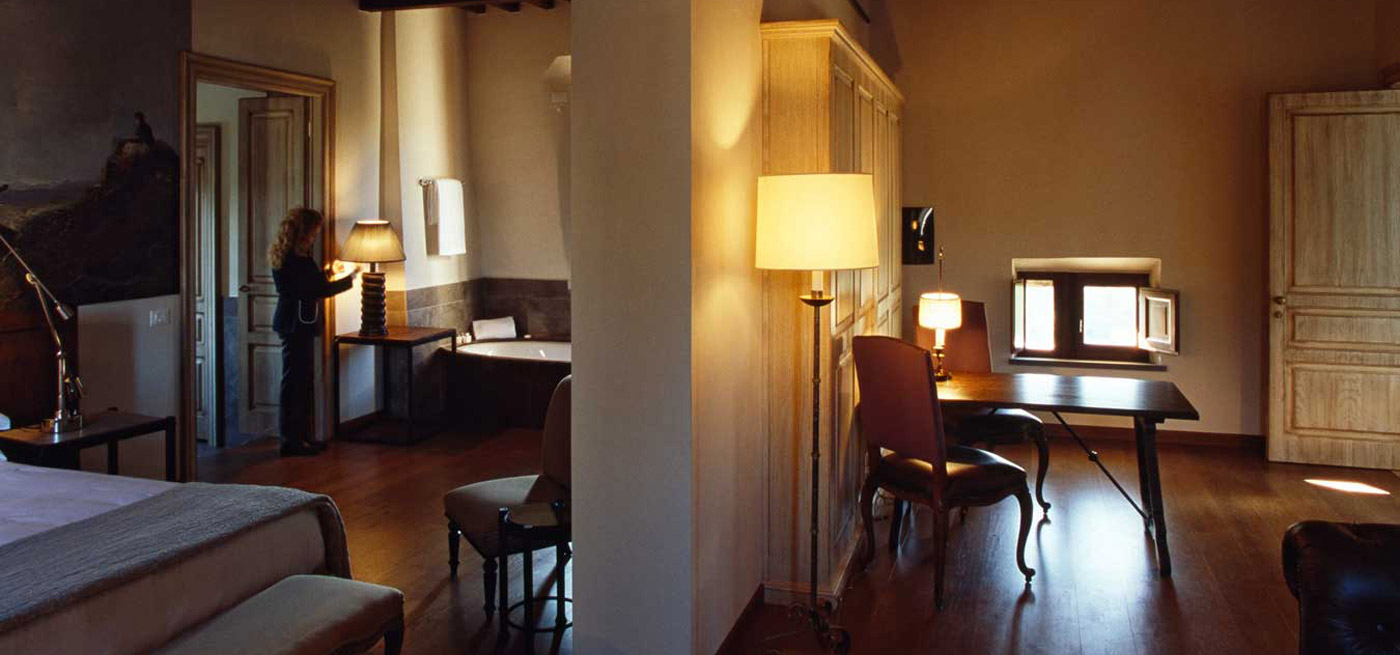 Suites
Choose from Junior Suites, Executives Suites or the ultra-luxurious Royal Suite. Each is elegantly furnished with traditional Tuscan touches and have bedroom(s), lounge, bathroom with bathtub and separate shower, Wi-Fi, LCD TV and minibar.

Occupancy: from 2-4 guests
Room sizes range from 50-79 sq m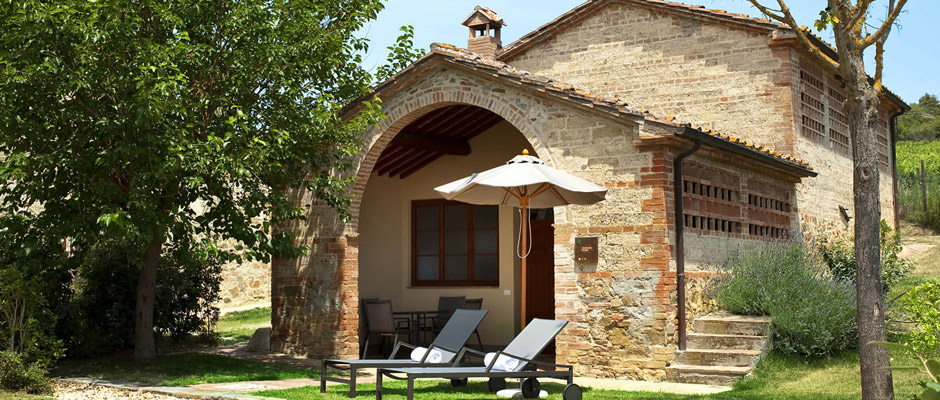 Villas
Spend wonderful days in the Tuscan countryside and you'll be able to appreciate the beauty and architecture of this historical region.

We'll be happy to discuss which villa would suit your requirements depending on your wishes and how many guests are travelling.
Contrada is Castel Monastero's gourmet restaurant. Looking out over the Piazza, this charming and elegant restaurant serves classic Tuscan dishes with a modern twist.
La Cantina is situated in the original medieval wine cellars, featuring high vaulted ceilings and stone walls and serving delicious Tuscan cuisine. The wine list is exceptional and this evocative setting has a unique and romantic ambiance.
Your Holiday Starts Now
Why not chat to one of our experts!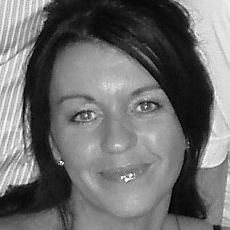 Start your holiday now with a conversation with one of our Italian Coast Personal Travel Experts!
We'll call you back
Leave us your contact details and we will be in touch.