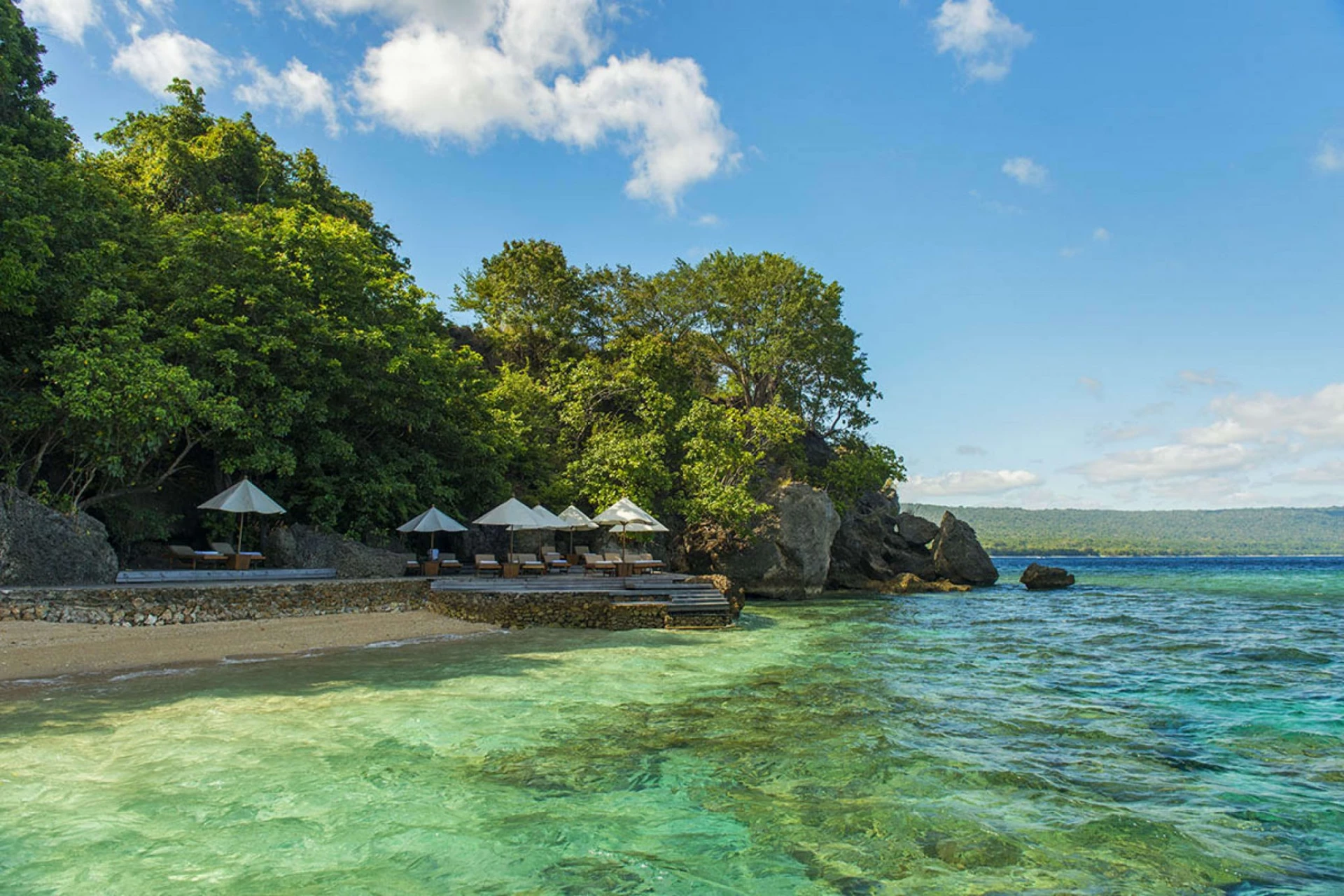 Amanwana, Moyo Island
Safari-style accommodation and wonderful diving opportunities
Amanwana is a remote retreat on the paradise island of Moyo which is home to some of Indonesia's best scuba diving and snorkelling waters.
Experience idyllic seclusion, a stunning canopy of greenery and wonderful accommodation provided in luxury safari-style tents.
The whole of Moyo Island is a stunning nature reserve spanning 36,000 hectares and this is home to the eco-friendly, low impact resort of Amanwana. Just 20 safari tents are located within the rainforest and along the shore offering hardwood floors, air conditioned spaces and en-suite bathrooms.
This is a wonderful location for diving and snorkelling as some of the world's best reefs are within easy reach of Amanwana. There's a Dive Centre with a team of experienced instructors on hand to assist anyone from beginners to advanced divers.
You can explore this magnificent destination further by boarding one of Amanwana's fleet of vessels so you can explore the nearby waters or enjoy a sunset cruise. Other activities include kayaking, snorkelling, nature treks, waterfall excursions and mountain biking.
The Boardwalk is furnished with sunloungers and parasols and there's a freshwater dipping pool and a waterfall shower set into the cliff face.
The open air spa is set on the beachfront beneath the shady tamarind trees. The double treatment area has a shower and recessed soaking tub and treatments available include crystal salt scrubs, holistic body treatments and massages. Occasional yoga sessions are also available.
Amanwana's restaurant overlooks the Flores Sea and serves delicious dishes made from local ingredients, some from the hotels' own garden. The daily changing menu also features the catch of the day from local fishermen. Guests can even catch their own fish for cooking and eating.
Luxury Holidays for Couples
Overview

Tents are constructed on a solid foundation with wooden walls, a pitched canvas ceiling, large picture windows, hard wood flooring, air conditioning, king size bed, writing desk, en-suite bathroom, Wi-Fi.
Ocean Tent
These restful sanctuaries are set back from the white sandy beach and have a wooden deck and ocean views.

58 sq m

Jungle Tent
Jungle Tents enjoy a peaceful jungle setting beneath a lush canopy of tropical forest.

58 sq m

We'll call you back
Leave us your contact details and we will be in touch.