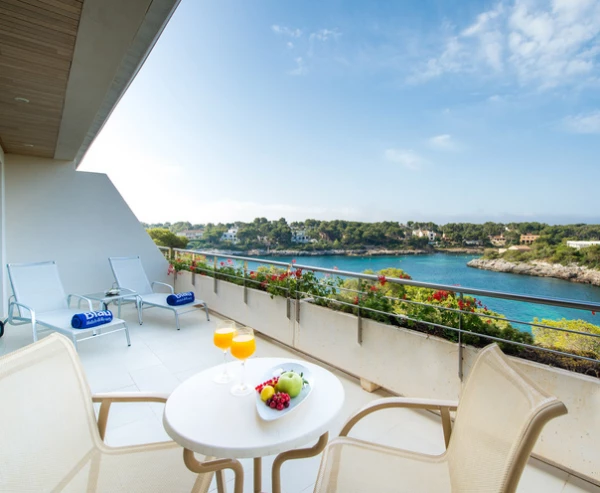 Blau Privilege PortoPetro Beach Resort & Spa
Just a couple of hours flying from across UK, the
Blau Hotel in Porto Petro
is one of my favourite family resort hotels. It manages to combine the best of two worlds, one of relaxation and peace and another with an array of activities and sports to keep the most energetic of family members occupied. The hotel is located in the pretty and tranquil fishing village of Port Petro with a reasonable choice of bars and restaurants and a short drive away from the busier resort of Cala Dor with its large Marina, excellent choice of restaurants and sandy coves. There are a wide range of room types to choose from varying from double rooms and family rooms to villas with private pools and, whichever you book, they are all tastefully decorated in natural colours complementing the fantastic Mediterranean views. The facilities and activities available are excellent and include archery, volleyball, bicycle hire, canoeing, tennis, windsurfing and - my boy`s personal favourite...sailing. There are also a wide choice of fitness classes to suit all abilities. As if all this was not enough, the facilities for children are second-to-none and include a designated area with a range of activities for children aged 3-12 which even includes language lessons.  Teenagers are separately catered for with a range of age appropriate activities. The food is fantastic here with open air barbecues, buffet restaurants and, my personal favourite, La Finca Spanish restaurant. The Midori Japanese restaurant is also a firm favourite with the more adventurous diner.
This hotel has everything including a Spa and Wellness centre. which offers a range of treatments including beauty, hydrotherapy, fitness treatments and a water therapy circuit. Blau Porto Pedro is a great hotel and I've personally stayed at it at least 8 times over the years - on family holidays with the children. with my parents a couple of times and with the girls where we have not really done anything more than laid by the pool, gossiped during the day and enjoyed a few gin and tonics in the evening (ok, maybe more than a few but we are on holiday). With guests from Spain, Portugal, Germany, Sweden and further afield, the atmosphere of this hotel is wonderfully cosmopolitan adding to the overall ambience. I have enjoyed everything from short stays to longer family holidays and have always been sorry to leave.  It is a hotel that I would always recommended and it's the pool that I dream of laying by if I have had a stressful day at home. If you want to know any more or would like a quote, please contact me.
Your Holiday Starts Now
Why not chat to one of our experts!
We'll call you back
Leave us your contact details and we will be in touch.