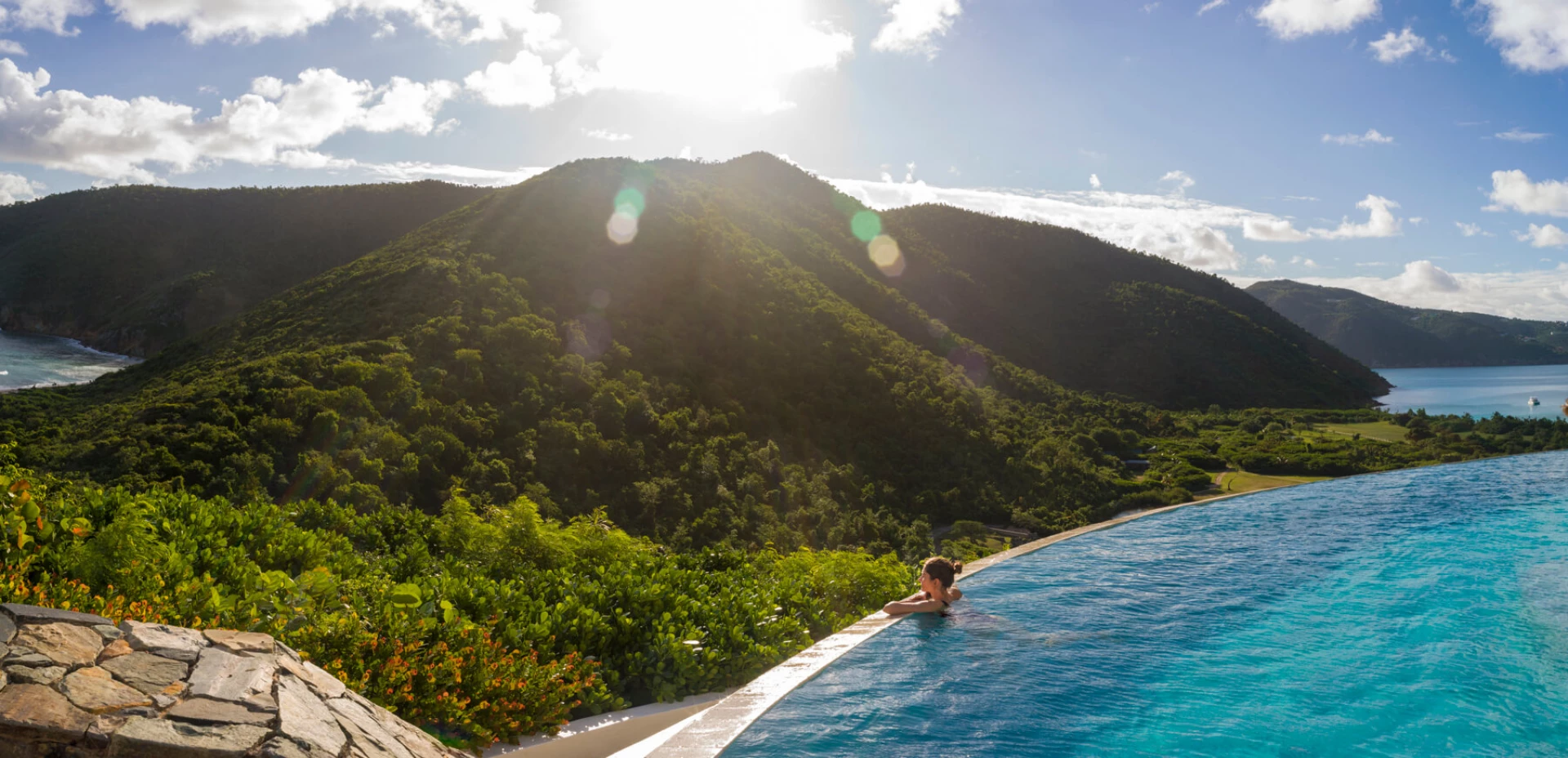 Guana Island
"Imagine the Caribbean before it went public" is the description given by this hotel and that's a perfect way to identify this stunning island.
If you're looking for an out of the way peaceful destination, Guana Island is the perfect choice. This privately owned, unspoilt island offers traditional low-key luxury and appeals to travellers seeking an off the beaten track resort.
At Guana Island you are surrounded by stunning natural beauty plus there are seven secluded beaches dotted round the island. Accommodation is straightforward and rustically simple, but stylish and comfortable.
If you enjoy walking and hiking you'll appreciate the well marked hiking trials and don't miss the views from the top of the 806 feet summit of the Sugarloaf Mountain – simply breathtaking. If you fancy a game of tennis, there are 2 courts at your disposal.
The beaches are perfect for relaxation but if you're feeling a little more active, with three reef areas, the island offers astounding snorkelling and scuba diving opportunities for complete beginners to experienced divers. There's also paddle boarding and kayaking.
Guests are able to charter a selection of craft for either a half day or full day cruise or choose a Castaway Picnic where the boatman will escort you to a sensational white powdery sandy beach and leave you with a delicious picnic and ice cold wine.
Massages and yoga sessions are available too and, if you've got a wedding to plan, the on-site wedding co-ordinator will help you organise your perfect day.
(Additional charges apply for selected activities, facilities and aspects of your stay. Please contact us for further details).
Luxury Holidays for Couples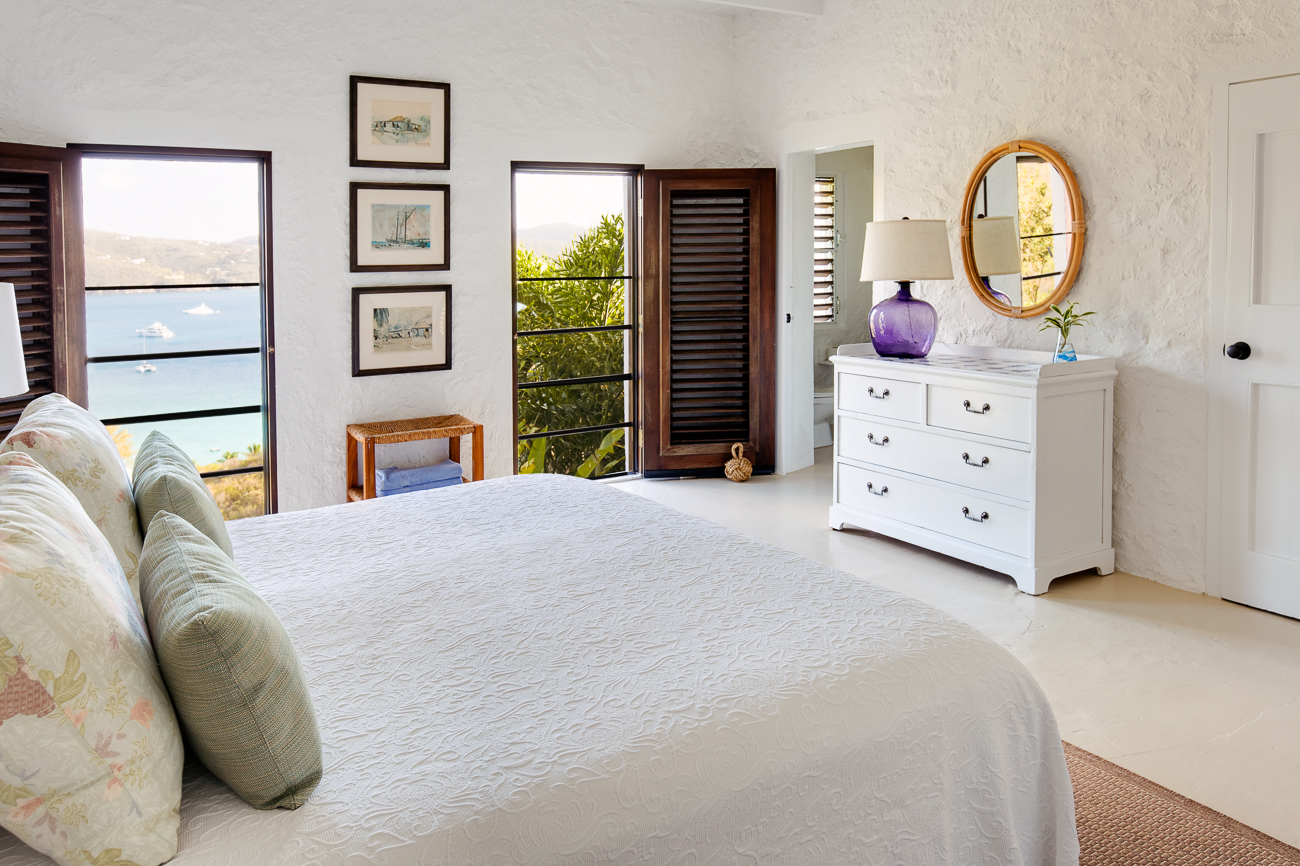 Sea View Rooms
Sea View Rooms are simple and stylish and enjoy a stunning location on a ridge with fantastic views of the Atlantic Ocean and the Caribbean Sea. Each room has its own private terrace and you also have the additional option of a private pool.

Guestrooms do not have a TV or phone so you can really escape and enjoy Guana Island.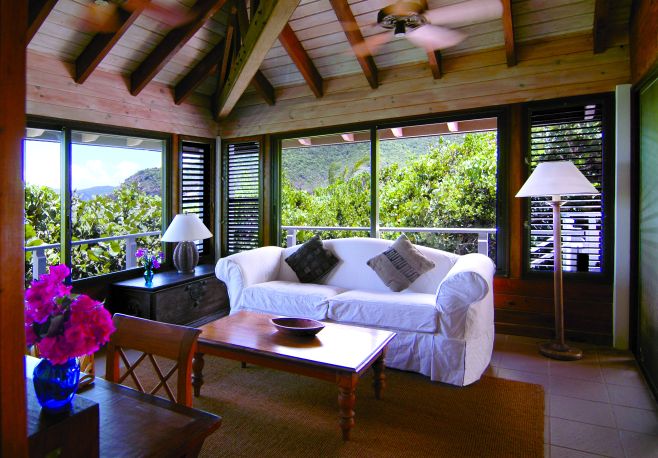 North Beach Villa
A one bedroom villa positioned on the waterfront surrounded by sensational natural scenery and terraces.

This is the only villa situated on the sea front just steps from the beach making it an idyllic location.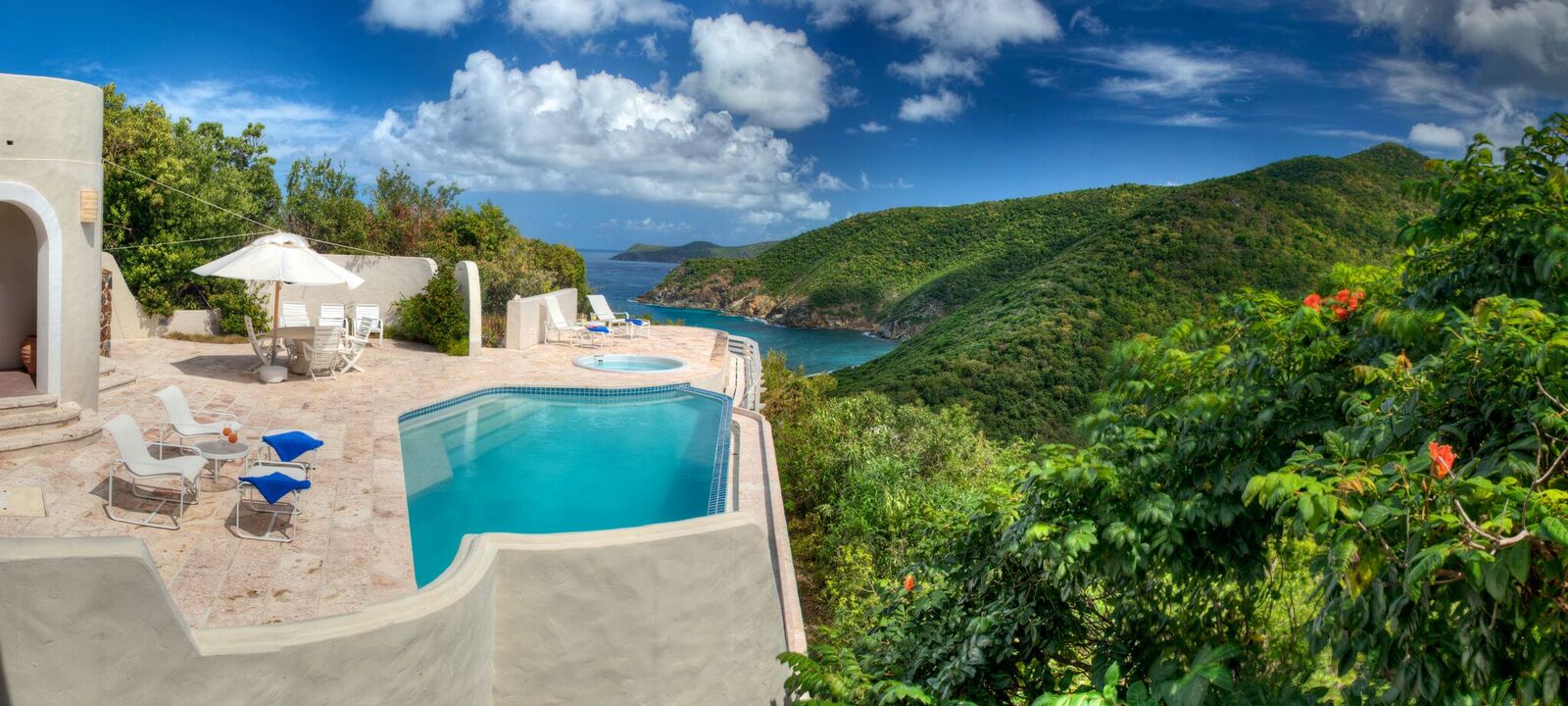 Harbour House Villa
With breathtaking panoramic views of the Caribbean and the Atlantic, this air conditioned property is available as a one or two bedroom accommodation.

It comes complete with its own Jacuzzi, outdoor shower, private dining area and infinity pool.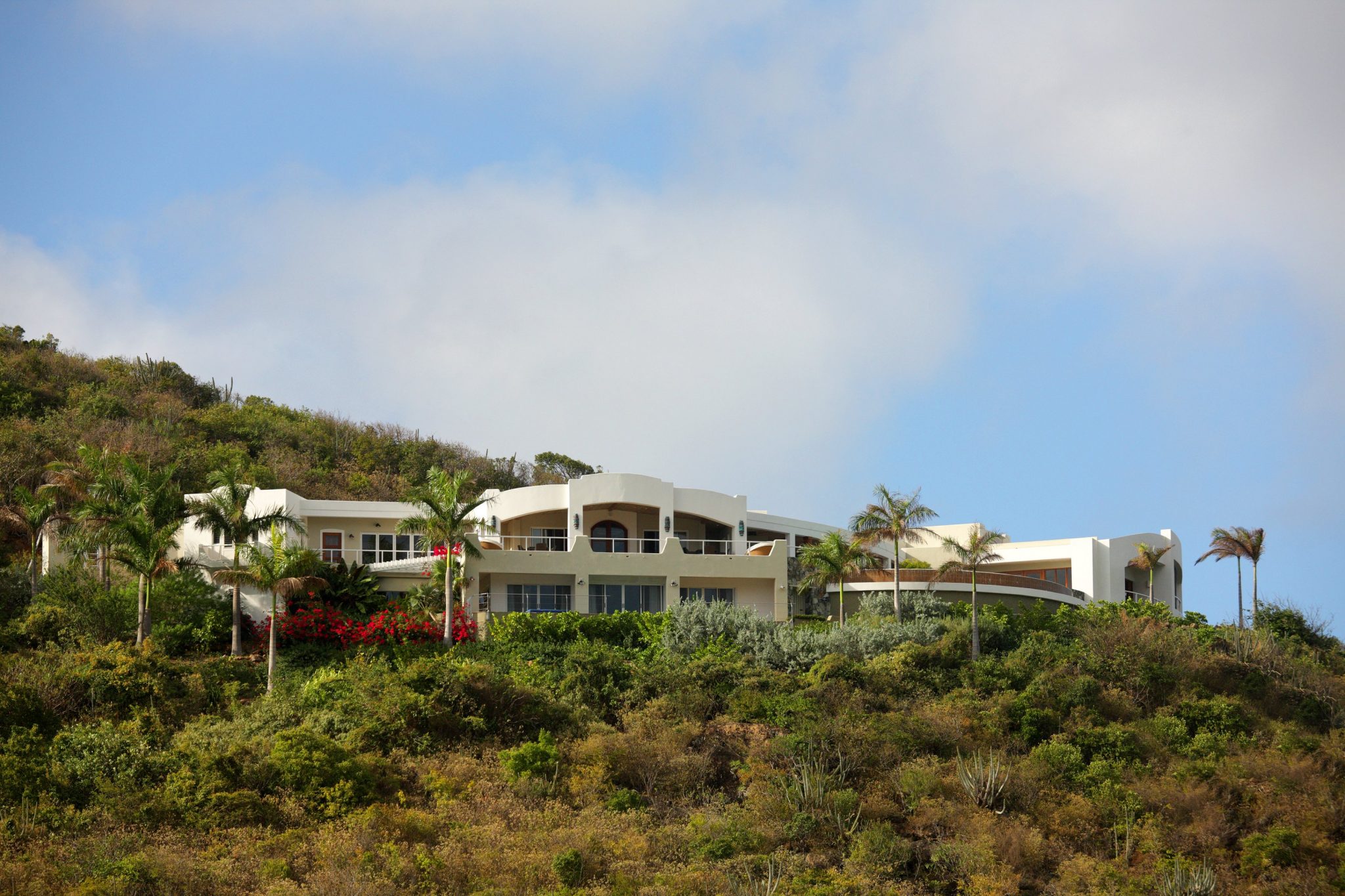 Three Bedroom Villa
Ideal for a group of friends or family, this three bedroom villa offers more space to relax. There are two properties available, Jost House and Anegada House.

Both are spacious with three bathrooms, designer infinity pools and a wraparound terrace with magnificent views. Jost House has the extra luxury of a Jacuzzi associated with the master bedroom and a fully stocked bar and kitchen.
Delicious locally sourced ingredients are featured in all the dishes created by the resorts' chefs. Enjoy a candle-lit dinner on the terrace under the stars before heading to The Club, an 18th century hilltop building, where you can finish the night with a cocktail.
Your Holiday Starts Now
Why not chat to one of our experts!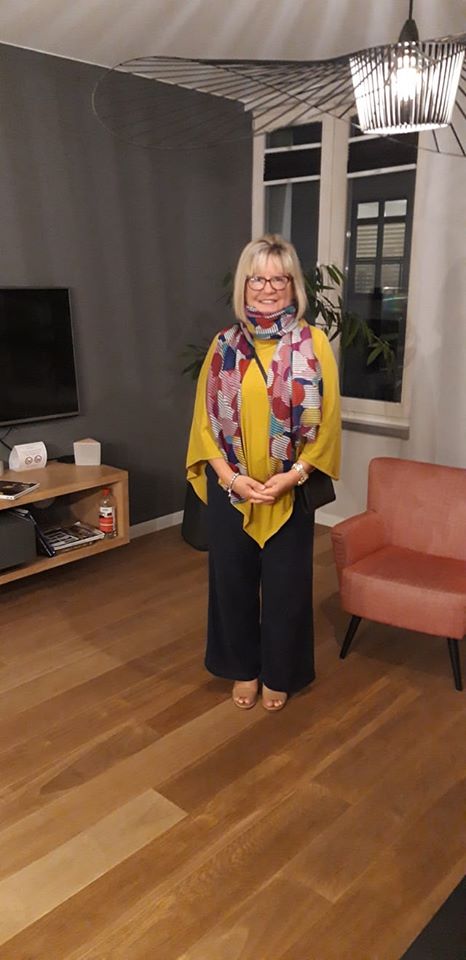 Start your holiday now with a conversation with one of our British Virgin Islands Personal Travel Experts!
We'll call you back
Leave us your contact details and we will be in touch.