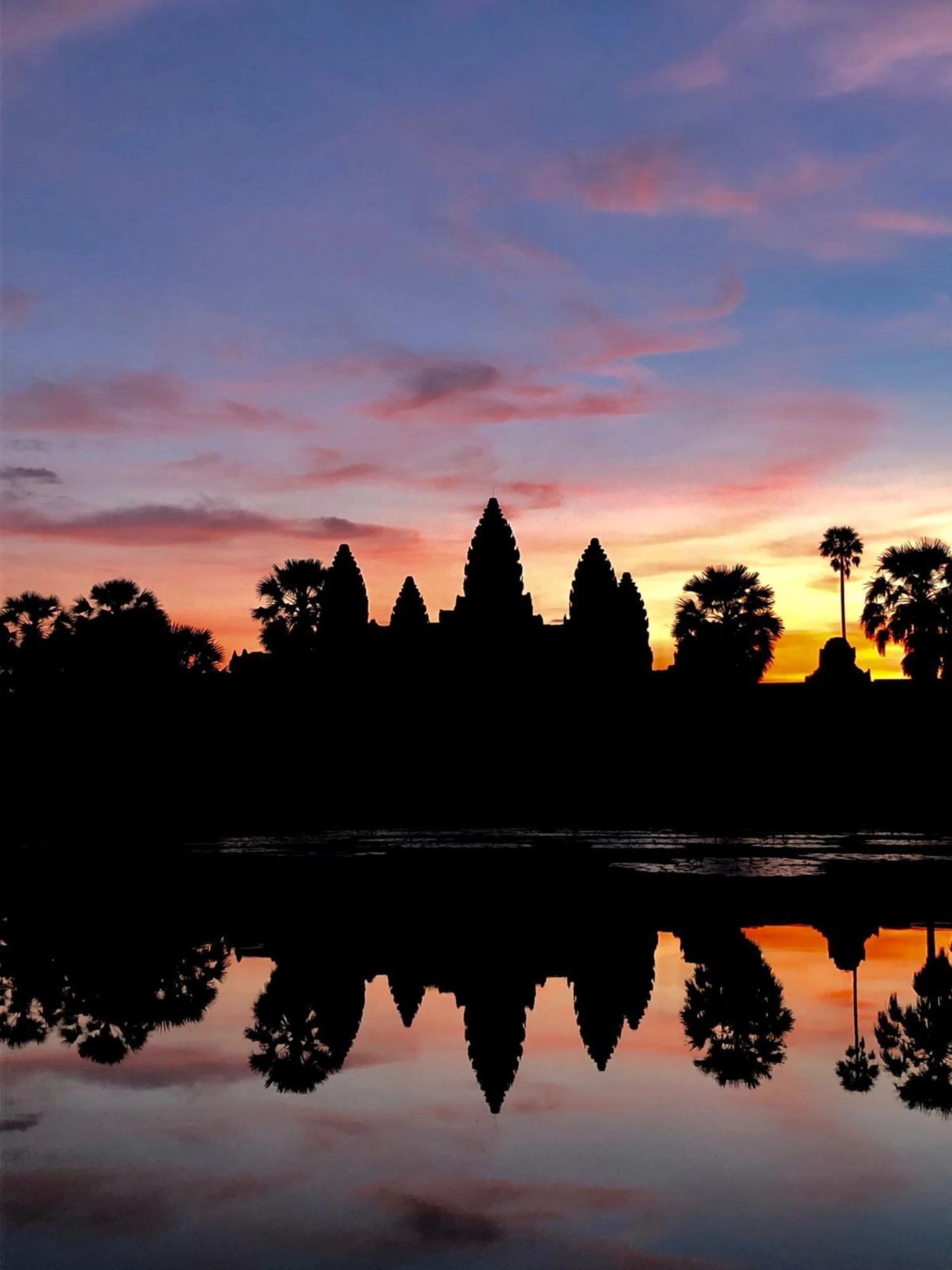 My Cambodia Experience with Intrepid
My Cambodia Experience with Intrepid
Day 1
That's everyone checked in... Thailand, Cambodia and Bali here we come! We boarded our flight at London Stansted en-route to Dubai and then onto our final destination - Phnom Penh. 
Day 2 Phnom Penh
We started our day at The Tuol Sleng Genocide Prison. (S-21.). The museum is pretty distressing but highlights the darkest days in Cambodian history. It was here during the Poi Pot regime that men, women and children were detained between 1975 & 1979. Once inside, prisoners were either tortured to death or sent to nearby Choeung Ek for "re-education" (execution). Over 12k were detained at S-21, with only seven known survivors. One of which we met today.
We were then driven to Choeung KL known as The Killing Fields which is just 15 Km's outside of Phnom Penh.
After lunch we then visited the other major tourist sites of the city including The Wat Phnom Temple (which is on the only hill of the town),The independent Monument, Central Market for some freshly cooked street food, followed a crazy cyclone bike ride around the town!
After a couple of 'Happy Hour' cocktails we headed for dinner for some local cuisine including Tarantula for starters!!!!
Day 3 Phnom Penh to Sambor Prei Kuk
Today was an early start as we headed north for our night in a home stay.
En route we stopped off at Skuon, a small town known for its deep fried tarantulas!!! I kept a wide berth!
Santuk Silk Farm, was our next stop where we watched the silk-making process before enjoying a tasty home cooked lunch.
Finally, we visited the pre-Angkor temple of Sambor Prei Kuk for a quick tour before checking into our home stay for the night.
Soon after arriving, we all went out on a bike ride around the village then onto the rice fields to watch the sun set across the landscape. 
Day 4-6 Siem Reap
After leaving Teng and his family we headed north to Siem Reap. First stop visiting the guys at The
#
intrepid
Cambodian head office where they treated us to local pastries and snacks.
This was followed by a couple of hours at 'Rehash Trash' where we washed roadside recycled plastic waste which was then transformed them into bracelets, keys rings etc..This helps keeping these talented women in employment ... again endorsed by The Intrepid Foundation.
A few happy hour cocktails followed by dinner in 'Pub Street' which is conveniently 2 minutes walk from our centrally based hotel.
Wednesday we were up super early to watch the sunrise over Angkor Wat. It was certainly a bucket list experience. WOW! A quick tour and blessing by a monk we headed back to the hotel for breakfast and short rest.
Later we visited Angkor Thom, Bayon (where we had the heaviest rain shower ever) and onto Ta Prohm where Lara Croft's Tomb Raider was infamously filmed.
After lunch we chilled by the pool, grabbed a bargain in the market or some took a massage.
Dinner was along the the river front, we then headed to the very trendy Temple Sky Bar.
After a lie in today we headed to the pier in Kampong Phluk, where we boarded a boat to the floating village on Tonle Sap Lake. This was definitely one of my highlights so far!
As we travelled down the canals, we passed schools, houses and even a Buddhist pagoda on stilts. We then to hopped into a smaller rowing boat and paddled through the flooded forest. Absolutely amazing you couldn't find this experience without the knowledge of our local leader Bun!
Tonight some of the group opted to visit the circus in Siem Reap. I'll be meeting them later for another lively evening that this city has to offer.
Day 7 Battambang
Today we boarded our bus for the drive to Battambang which is Cambodia's second largest city.
En route we stopped for an appetiser before lunch (fried rat and snake
😬
) Shahen took one for the team!
🐀
🐍
After checking into our centrally based hotel we took a bike ride through the countryside - around 22kms. We stopped at several family run businesses, including one that produces rice paper another that makes rice wine and the last one that produces dried bananas - businesses endorsed by the Intrepid Foundation. 
Very interesting to see how the local folk live and survive in this poor country but also lovely to see how happy the children are playing in the river, waving and greeting us we ro
de past.
Tonight we enjoyed the facility's of the hotel as it was super crazy in the town due to the 'Water Festival' this weekend. We then had our final meal together as one small group before joining the other two groups in Bangkok - who also had an intrepid experience in either Thailand and Bali over the past week.
Your Holiday Starts Now
Why not chat to one of our experts!
Karen Whale
Designer Travel Expert
01494 638903
07748 487454
Start your holiday now with a conversation with one of our Cambodia Personal Travel Experts!
We'll call you back
Leave us your contact details and we will be in touch.