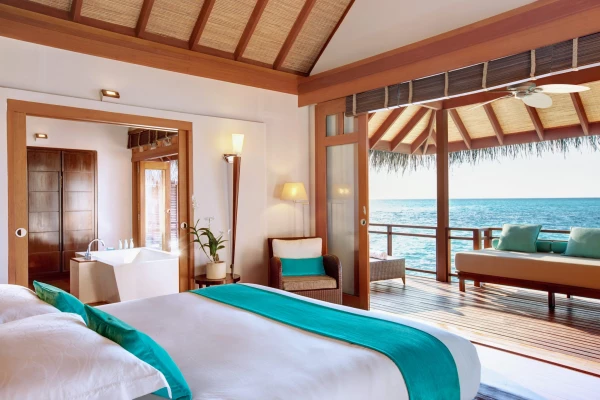 We travelled on our family holiday to
Lux Maldives
in August 2013. This hotel is amazing and has to be one of the best we have stayed in so far. Let me tell you all about it:
Location
Lux Maldives is located in the Southern Atoll of the Maldives and is reached by a short seaplane ride of approx. 30 minutes. The seaplane experience in itself is worth every penny but make sure you get on early as you really need a window seat. Get you cameras ready as literally from the moment you take off from the sea your jaw will drop and you will start snapping away at the tropical islands in the crystal clear Indian Ocean. About LUX Maldives The island LUX Maldives is located on is quite large compared to lots of other resorts in the Maldives. It takes approx. 20 minutes to walk from one end to the other but the width of the island is quite narrow. The accommodation is made up of beach pavilions, beach villas and over water villas. The beach pavilions which are the lead in rooms are spacious, have a large private garden area and also have an outdoor bathroom. Every room on the beach has direct access to the beach. The resort facilities are spread across the island so you will find golf carts going up and down if you would rather not walk, or if you find a yellow bike just hop on and cycle away.
The Facilities
LUX Maldives has everything including two large swimming pools, a great choice of restaurants (the Asian is amazing) a very well run water sports centre and a fantastic kids club. You will also find a red British telephone box where you can make FREE calls to landlines back home!
What to do?
During the day you will find the hours just melt away even though you are doing nothing! Just looking at the stunning scenery, paradise beaches would be enough but for the more energetic you can snorkel, kayak, dive, play tennis, cycle and lots more. Most evenings at dusk you can also feed the sting rays and the reef sharks! The evenings consist of dining in breath taking settings, eating delicious food and having a quiet drink making new friends in one of the bars. Some of the bars have a singer performing and a few nights they had local themed evenings. The MUST though at LUX Maldives is to go in search of the message in a bottle and the secret bar! Every day the management hide 20 bottles all over the island, if you find one look inside and see what you have won! Stroll around the island and you will find secret bars, find one and help yourself to a soft drink or sign using an honestly tab for anything stronger!
All Inclusive
We took this option which at the time seemed very expensive but to be honest was worth every penny. The all inclusive covers all bars and restaurants and at the end of each meal or set of drinks you just signed a zero bill. You had the choice of cocktails an extensive wine list with over 70 wines from around the world.
Family Facilities
The kids club and the kids team were the most friendly and really know how to look after kids and they certainly made sure they had fun, from henna tattoos to baking pizza or taking the kids to a touch tank to get up close to many sea creatures. Once a week they had a movie under the stars too, serving popcorn on bean bags. The kids loved it. The weather we had in August was perfect, high 20's with very little rain. The insects were kept at bay with a daily fogging routine so not nasty bites to content with either. I really could go on but if you want any other more specific information about LUX Maldives then just contact me on 07753 929930 or email me at Amanda@designertravel.co.uk
Your Holiday Starts Now
Why not chat to one of our experts!
We'll call you back
Leave us your contact details and we will be in touch.