Peter Island Resort & Spa
Peter Island is a true haven of tranquility awaiting those who want to get away from it all
Set sail for the Caribbean's most extraordinary coordinates; arriving by water to Peter Island's marina is a breathtaking experience. As the largest private island in the British Virgin Islands, Peter Island is a true haven of tranquility awaiting those who want to get away from it all. This incredible tropical paradise offers flawless beaches and the shallower waters surrounding the island are ideal for bathing, snorkelling and watersports. Other facilities include a magnificent pool overlooking the ocean and surrounding islands, mountain bike trails, tennis, gym, dive centre and a sumptuous 10,000 square feet spa for you to enjoy a wide range of revitalising treatments. Service is paramount on the island and every room has a butler. Ocean view options offer close proximity to the main resort facilities whilst the highly popular Beachfront Junior Suites boast picture postcard views framed by romantic sunsets and sailboats drifting lazily by. The resort houses three luxury villas ranging from three to six bedrooms offering self contained privacy with access to all the facilities of this private island retreat.
Peter Island Resort & Spa
There is so much to do on this unique island – the choice is yours. Obviously this is an ideal resort for watersport lovers including excellent diving and snorkelling opportunities. There's also private sailing, island hopping, biking, hiking, private dinners, gala buffets, weekly cocktail parties and much more.

Choose from five pristine white sand beaches, each with its own benefits and personality; Little Deadman's Beach is perfect for swimming and Honeymoon Beach is a paradise made for two.


Luxury Holidays for Couples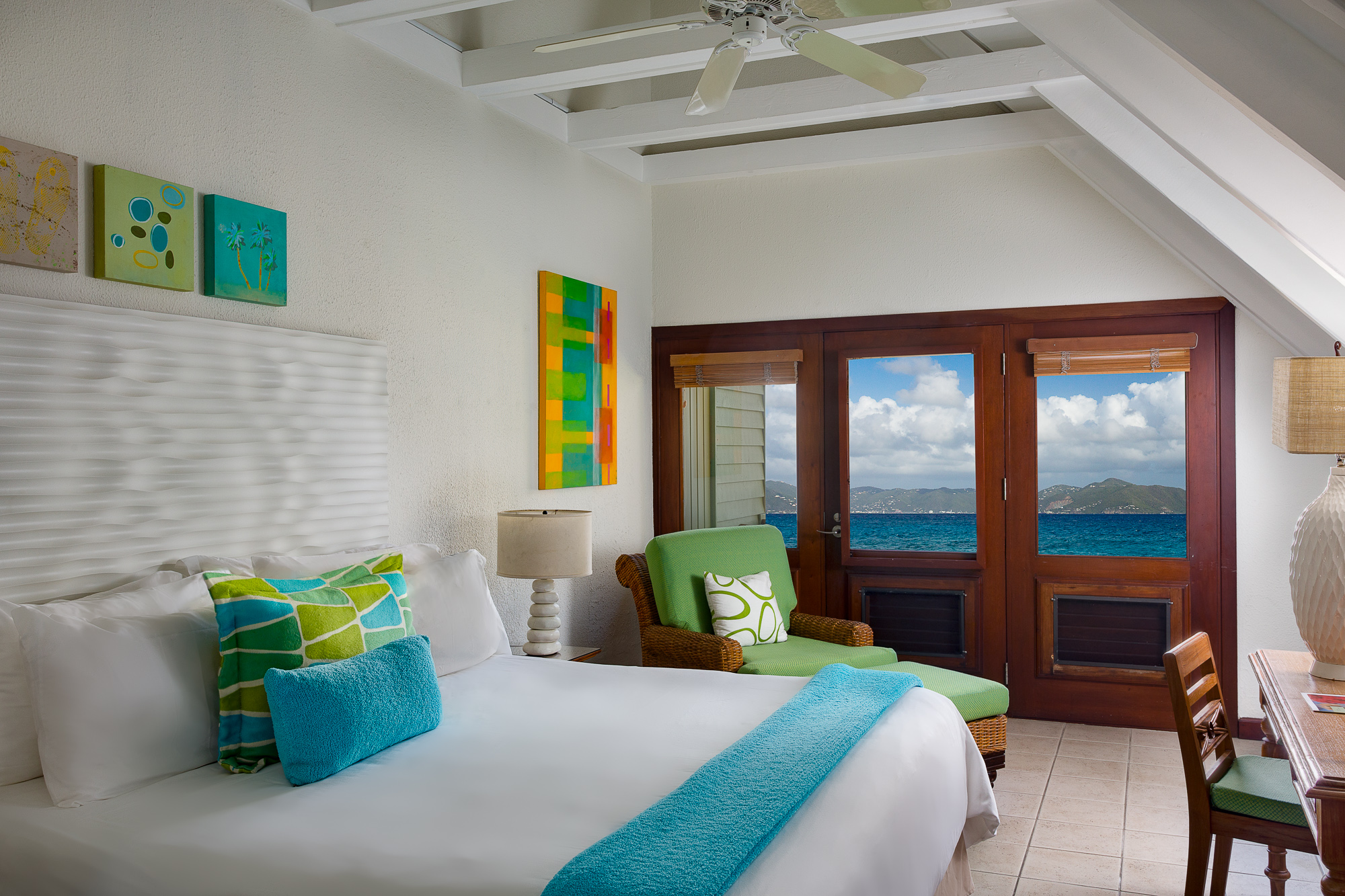 Ocean View Rooms & Ocean View Deluxe Rooms
Of the 52 rooms, Ocean View Rooms have the closest proximity to the main resort facilities. Features include French doors, furnished private balcony, air conditioning, ceiling fan, king size bed, built in closet, desk and chair, bathroom, bathrobes, minibar, iPod alarm clock and Wi-Fi. Ocean View Deluxe Rooms have a private patio with sun loungers and seating area. Deadman's Beach is only a 5 minute stroll away and guests will enjoy beautiful night views of the lights of Tortola, capital of the BVIs. Max Occupancy: 3 39-35 sq m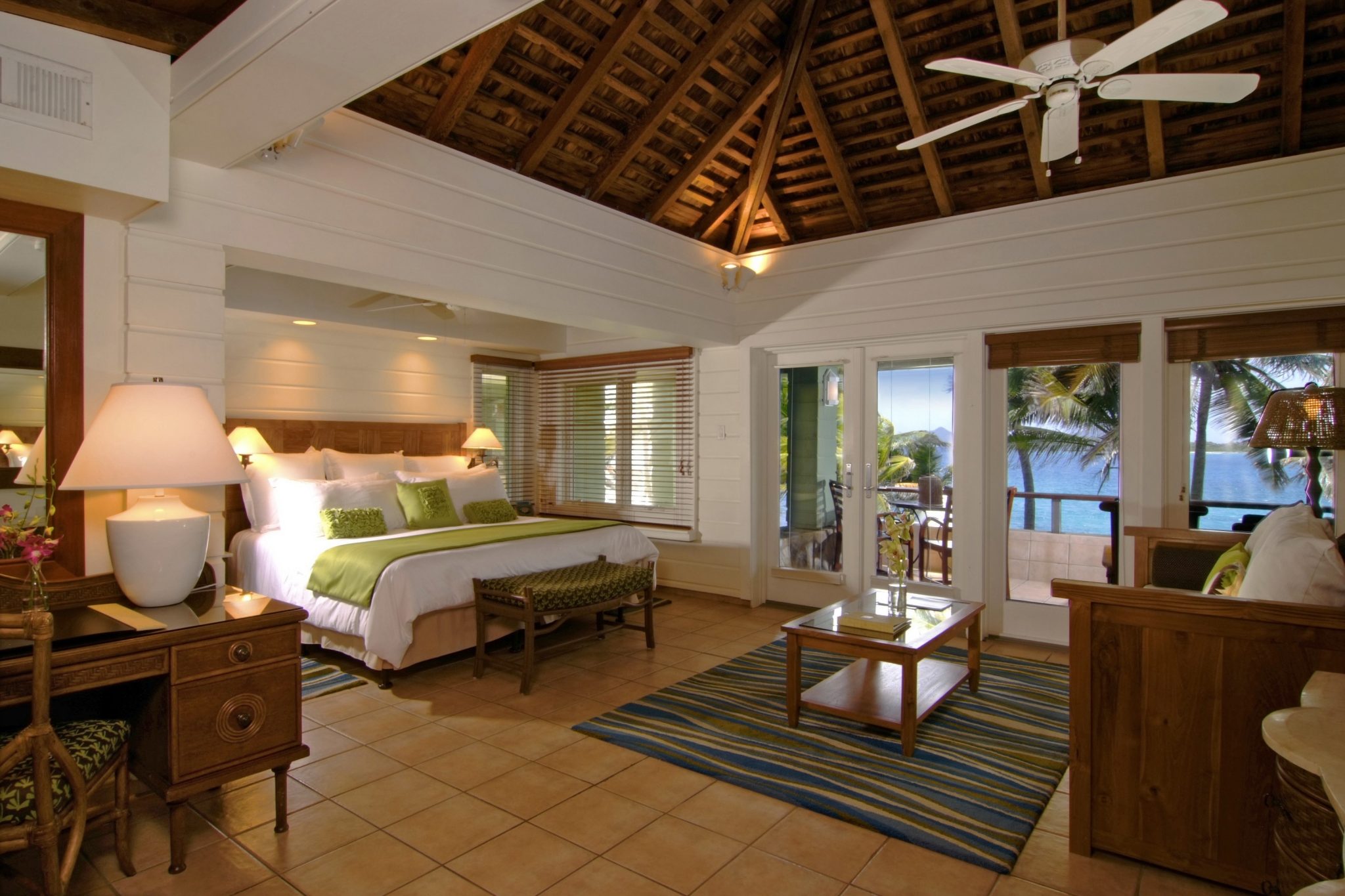 Beach Front Junior Suites
Peter Island's Beach Front Junior Suites are a five-minute walk from the main pool and marina. Each suite is surrounded by tropical gardens and has direct beach access. Features include a private balcony or patio, two-person Jacuzzi tub, two-person shower, king size bed and large sitting area with spectacular views overlooking Deadman's Bay, Dead Chest Island and the BVI's beyond. Max Occupancy: 4
Peter Island Villas
For the ultimate experience in luxury and service, there are a small selection of villas available. Here you'll find all your favourite things, whether that's your favourite champagne, favourite tunes on a personalised play list or the pillows you prefer on the bed. Your stay in a Peter Island villas is customised before you arrive so you feel immediately at home as soon as you open your villa door. Personal staff including a butler, chef and housekeeper can be arranged on request. A private vehicle with a driver for personal use are available for guests at the Falcon's Nest Villa and Crow's Nest Villa. For full details of any of the villas, please contact us.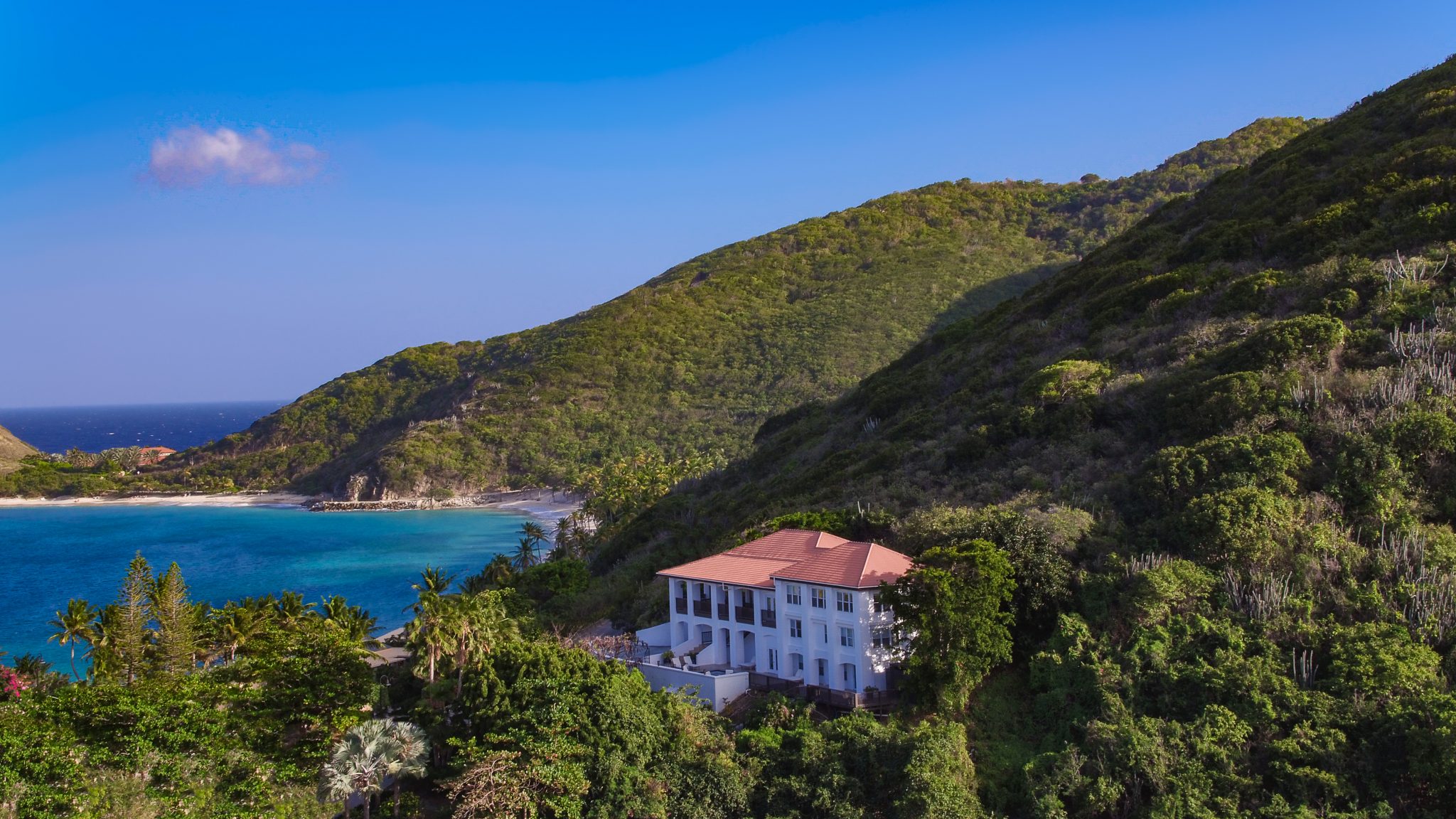 Hawk's Nest Villa
A Caribbean-style villa overlooking Deadman's Bay, The villa features three spacious bedrooms, each with its own bath, plus two additional bedrooms and baths in the poolside quarters. Highlights include a large, private sundeck with its own dipping pool, a fully-appointed kitchen, separate living room, and a location convenient to the resort's main lobby, restaurant and beach.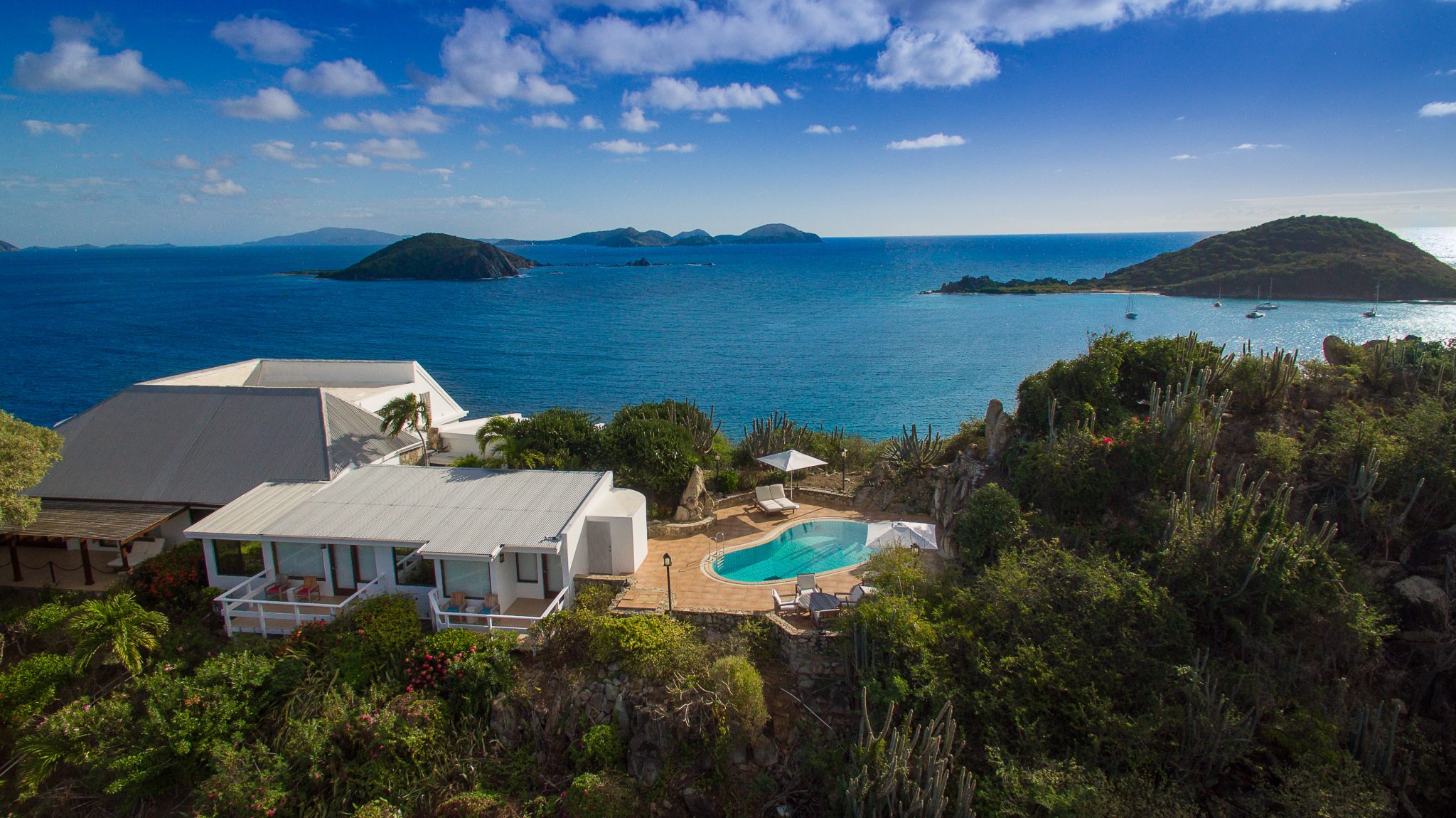 Crow's Nest Villa
The Crow's Nest occupies a cliff-top location and overlooks the sparkling waters on the south side of the island, This gated villa is both secluded yet accessible from the main resort. Four bedroom suites offer complete privacy, with private baths, deep soaking tubs and showers, secluded verandahs and separate entrances. Highlights include a media room, seamless-edge pool and dipping pool with decks. Max Occupancy: 8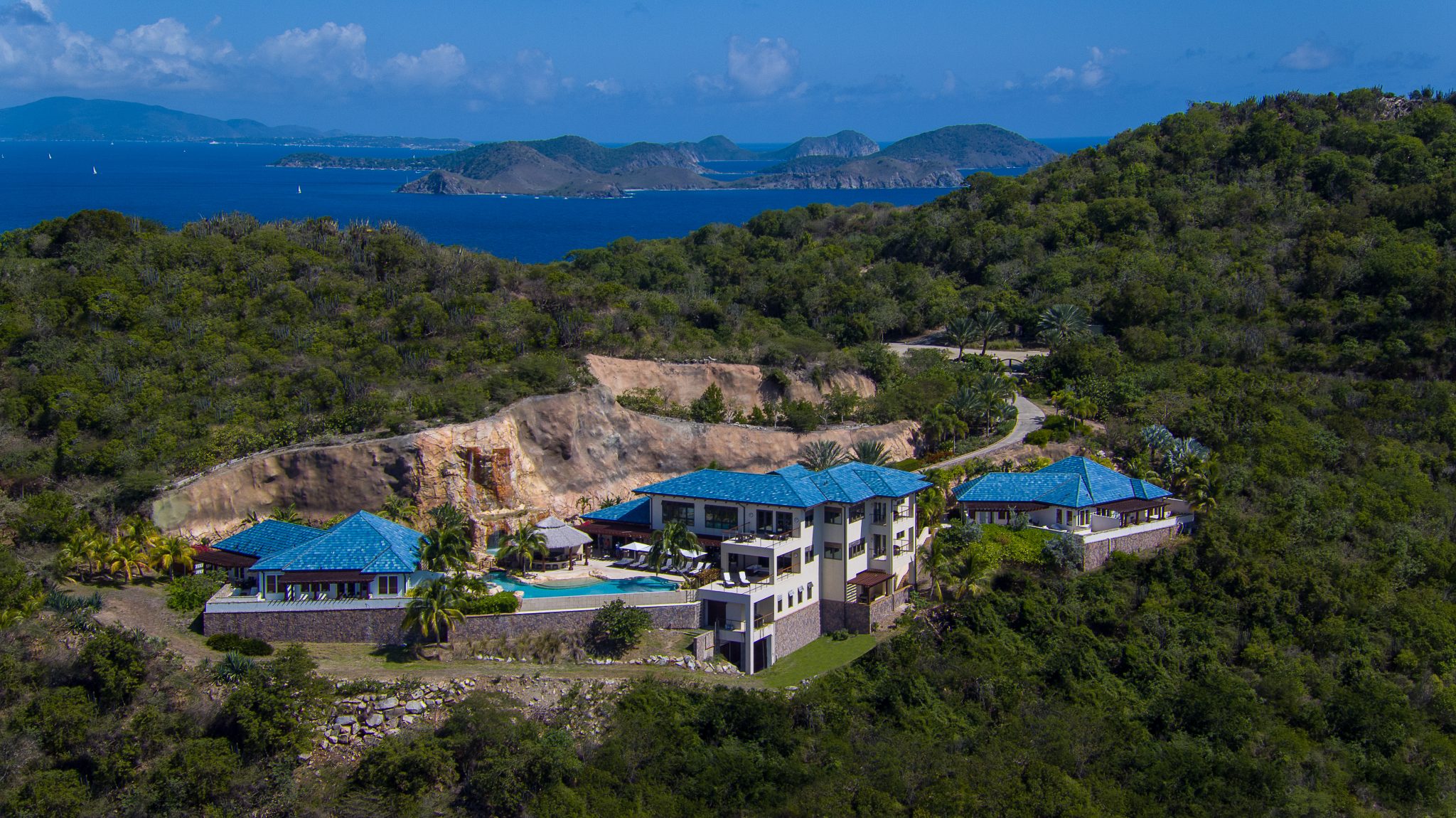 Falcon's Nest Villa
This villa occupies a privileged location on one of the islands most picturesque bluffs, allowing views over White Bay Beach and towards Norman island. This villa estate has three separate residences with six spacious suites, seven baths and three half baths. Highlights include an infinity-edge pool, dipping pool and large outdoor whirlpool, a media room, elegant dining room, spa and fitness centre and three-storey waterfall with grotto. Max Occupancy: 12
Tradewinds Restaurant: Peter Island's signature restaurant serves exquisite bistro and Asian-Caribbean cuisines created by the Caribbean's most renowned chefs. This is an elegant venue which also has a wine room offering over 300 selections.

Deadman's Beach Bar & Grill: Flavourful Caribbean and Continental dishes are served for both lunch and dinner. There are also Caribbean buffet nights and regular live music from a steel drum band.

Private beach dining is also available; dine by the water's edge under the glow of the moonlight – absolutely perfect.

Your Holiday Starts Now
Why not chat to one of our experts!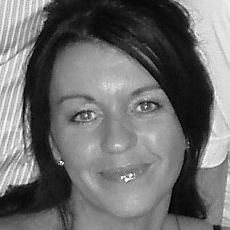 Start your holiday now with a conversation with one of our British Virgin Islands Personal Travel Experts!
We'll call you back
Leave us your contact details and we will be in touch.