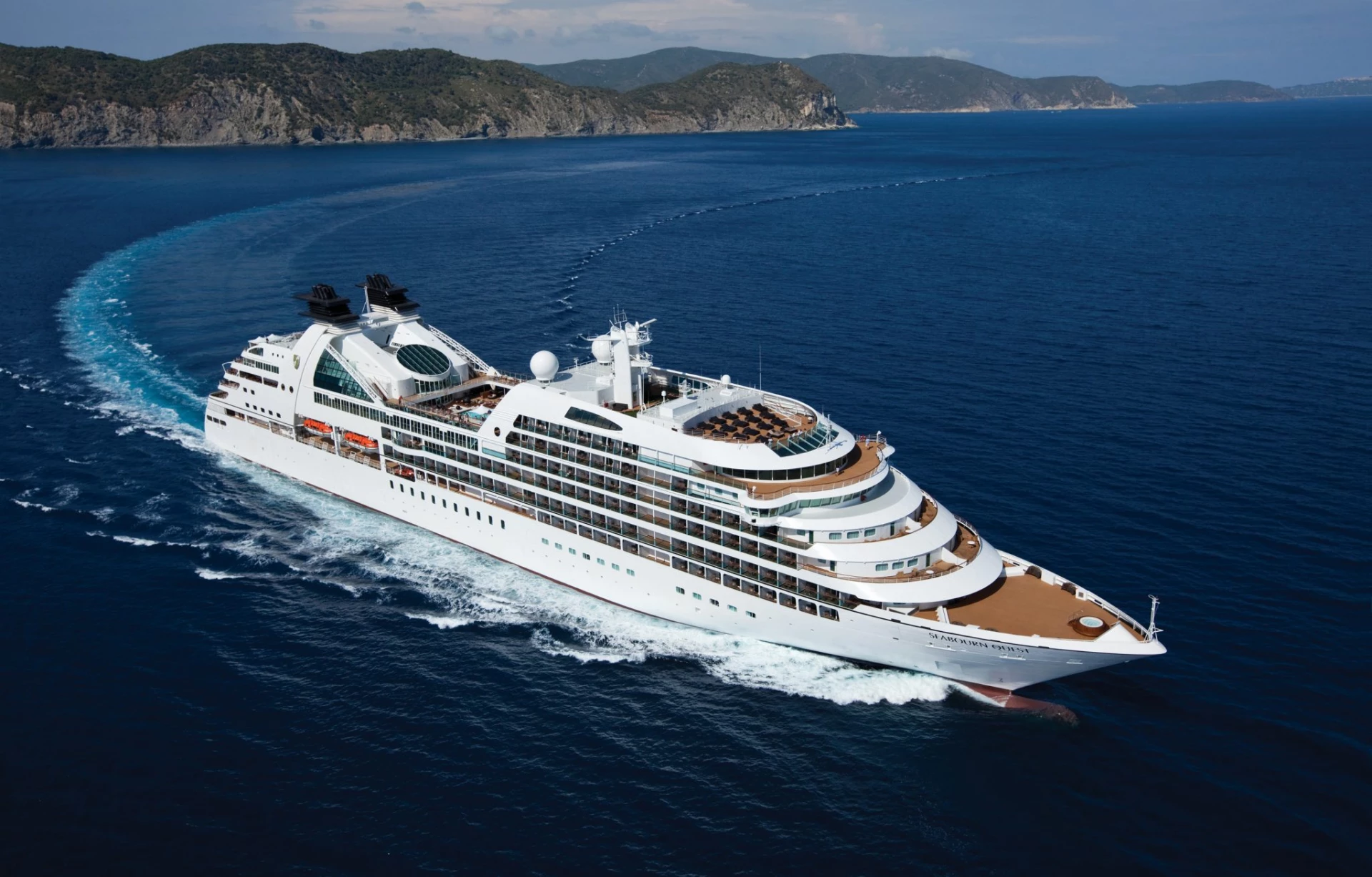 ULTRA LUXURY CRUISING with Seabourn
ULTRA LUXURY CRUISING with Seabourn
The Odyssey Class - three ships (only 450 guests) offering unparalleled levels of service
Seabourn Odyssey
introduced in 2009,
Seabourn
Sojourn
in 2010 and 
Seabourn Quest
 in 2011, all carrying 450 passengers and 330 crew. Seabourn has focused on upgrading and improving facilities while offering more space, compared with its smaller older previous ships which have now been sold. At 32,000 tons, the new ships are three times larger than the original trio of vessels and take more than twice as many passengers. Accommodation ranges from the category A suite with sea view, several types of verandah suites offering 300 square feet interior space and 65 square foot verandah. There is a further selection of penthouses and larger options which are particularly suitable for longer voyages. 90% of suites have verandahs.
Spoilt for choice with restaurants on board
There are four restaurants: The Restaurant, open for breakfast, lunch and dinner offers diners a 'Todays Inspirations' menu with 4 choices that change daily plus a 'Seabourn Classics' menu with a selection of traditional options which remain the same every evening. Restuarant2 is replaced by the Grill by Thomas Keller with a choice of at least 9 main courses and a good selection of starters and desserts. Choices include: dover sole, lobster thermidor, moist Roast Chicken and delicious steaks. Thomas Keller is the only American Chef with three Michelin stars. His 'creations' are served throughout the ship's restaurants, sometimes as specials, as well as the grill. The Colonnade - an outdoor /indoor restaurant serving breakfast, lunch and dinner in an open-kitchen style. Seabourn Square is a central hub where guests gather to play cards, read or enjoy a limited selection of snacks provided most of the day until 11pm. There is also the Patio Grill for poolside casual dining at lunch and dinner. Freshly baked pastries are served in the mornings and gourmet pizzas in the afternoons. The opportunity to dine and enjoy a drink on deck, including evenings, is a key feature of all Seabourn ships. The company boasts that these new ships carry the largest spa of any ultra-luxury cruise ship. When clients travel with Seabourn they are surprised how quickly staff get to know your names without prompting!
Penthouse Spa Suites
Guests booked in the Penthouse Spa Suites have access to their suites via a spiral staircase in the lobby of the spa and will enjoy the services of a spa concierge during the cruise.
Two New Larger Ships
These two latest ships are similar to the earlier 3 Odyssey class ships. Apart from carrying another 150 guests, The Grill by Thomas Keller is now a much larger and spacious venue and a new dining venue, a Sushi Restaurant has been added. These two ships include the launch of two new initiatives which will eventually spread throughout the fleet; a new delicious 'Gelato' programme plus the Earth & Ocean Experience at The Patio, upgrading the open-air evening dining experience with a more sophisticated menu.
Lots of extras included
Six Star - Ultra Luxury - All Suite Intimate Yachts for 208 or 450 guests
Open Bars throughout the ship
Personalised service with nearly one staff member per guest
Award-winning cuisine by celebrity chef Charlie Palmer
Open seating dining and alternative restaurants with no supplements
Course-by-course dining in your suite
Marina with complimentary water sports
Gratuities are neither required nor expected
All details quoted are thought to be correct at time of posting but are always subject to confirmation at time of booking
Photo: Seabourn Quest (Seabourn) 01
Your Holiday Starts Now
Why not chat to one of our experts!
Start your holiday now with a conversation with one of our Amalfi Coast Personal Travel Experts!
We'll call you back
Leave us your contact details and we will be in touch.